Following the aggressive tone set by ambitious Monaco, European's elite are once again gearing themselves up for another exorbitant summer of wild spending. But away from the upper echelons of European football there will no doubt be teams scrambling around at the other of the spectrum; in search of that elusive bargain on the free agent market.
Whether this selection are the contract rebels who have wound down their contract to engineer a fresh challenge, or those who simply haven't done enough to convince their clubs to part with a fresh deal, this XI will all be free to negotiate with potential new employers in the very near future.
Goalkeeper: Mark Schwarzer
The evergreen Mark Schwarzer may have hit 40, but looks more than capable of operating in the Premier League for another campaign. Fulham claimed earlier in the season that the Australian stopper had rejected their offers of a new deal, a claim which has been disputed by Schwarzer himself who maintains no contract has been forthcoming. Having plied his trade in English football since 1996, the veteran wants to continue his career on these shores, and could present a handy addition for clubs in need of an experienced head at the back next season.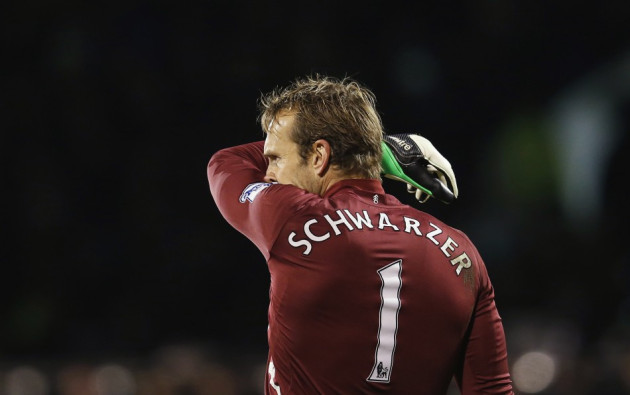 Right back: Anthony Réveillère
As Monaco prepare to throw down the gauntlet to Paris Saint Germain, Lyon's Ligue 1 challenge next season is uncertain, as is the future of Anthony Réveillère. The 33-year-old has spent the last ten years of his career at Lyon, picking up five Ligue 1 championships in addition to two Coupes De France in the process, but this summer could bring change for the Frenchman. The former Valencia defender recently denied claims he had fallen out with head coach Remi Garde and insists an extended stay at the Stade de Gerland remains a possibility, although a resolution will have to found sooner rather than later.
Centre half: Martin Demichelis
The imposing Argentine is set to leave Malaga at the end of the season after what has been another formidable campaign for the 32-year-old. After helping the Andalucíans into the Champions League last year, their plucky efforts created one of this tournament's most memorable tales this time around, as the club reached the quarter final stages of the competition. But after UEFA imposed sanctions on the La Liga sie, banning them from European competition next sesson, coupled with a faultering end to the season, the former Bayern Munich stalwart has given every indication that he is ready for a final swansong in his native Argentina, with a return to River Plate seemingly on the cards.
Centre half: William Gallas
What next for the man who has nonchalantly ticked off consecutive moves to Chelsea, Arsenal and Tottenham in the space of seven years? What he may be lacking in loyalty, the Frenchman certainly makes up in perseverance, still going relatively strong at 35 years of age. But with Michael Dawson and Jan Vertonghen firmly ahead of him in AVB's first team plans and the ever-improving Stephen Caulker casting a shadow over the duo, another chapter could await for the centre half who has yet to be offered an extension at White Hart Lane.
Left back: Maynor Figueroa
With Wigan set for a spell in the Championship and his deal set to expire this summer, Maynor Figueroa's exit from the DW Stadium seems as assured as that of Roberto Martinez. The full back was heavily linked with a move to West Ham United earlier in February, but given the Hammers' recent acquisition of Romania captain Razvan Rat, Sam Allardyce could feel his side are stocked in the left back department. Given his five years of experience in the top flight, The Honduran is unlikely to be short of offers, with newly promoted Hull City reportedly interested in his services.
Midfielder: Joaquín
The former Real Betis and Valencia winger has rediscovered some of the form that once made him one of Europe's most feared and coveted wingers, alerting a number of clubs as he approaches the end of his deal at Malaga. Although he does have the option to extend his deal at the Andalucian club for another year, the Spaniard is yet to reaffirm his commitment to the Champions League quarter finalists, who may have to brace themselves for the departure of a number of first team players once again this summer.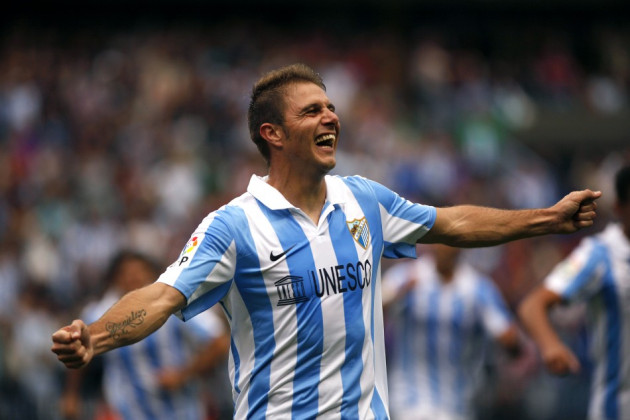 Midfield: Anatoliy Tymoshchuk
The Bayern Munich midfielder is set to leave the Allainz Arena after four years, but despite his advancing years, is likely to have offers to continue his stay in the Bundesliga. Although the Ukraine captain struggled to impose himself in Bayern's midfield this season, many others would when faced with the prospect of breaking up the formidable partnership of Bastian Schweinsteiger and Javi Martinez. At 34, Tymoshchuk is approaching the twilight of his career, but could be tempted into one more challenge after being told by Bayern executive Karl-Heinz Rummenigge that he can leave this summer.
Midfield: Mathieu Flamini
If there is one man who is no stranger to the Bosman rule it is Mathieu Flamini. The Frenchman left Arsenal on a free transfer following a fantastic campaign where he ushered Gilberto Silva out of his usual position, swapping London for Milan where he was earmarked as Rino Gattuso's natural successor. After an injury ridden spell throughout the 2011/12 season, Milan announced that the midfielder had left the club following the expiration of his contract, allowing the free agent to negotiate a new deal with any club of his choosing. He chose Milan (again), officially signing for the club for a second time, taking a huge pay cut in the process. A year on, the former Gunner is poised to leave the San Siro once again. Could a big money offer tempt the 29-year-old back to the Premier League?
Forward: Andrey Arshavin
The reputation Arshavin carved for himself with his four goal blitz against Liverpool once upon a time is now nothing but an extremely distant memory, but is the 31-year-old Russian really ready for the scrap heap? The playmaker has shown little interest in being an Arsenal player for some time now, and talk of retirement suggests his day may be done. Whether any club would be prepared to take the enormous gamble and take him on also remains to be seen, with a return to Zenit St Petersburg seemingly the only plausible option.
Forward: Claudio Pizarro
The veteran Peruvian has enjoyed the comfortable role of being Bayern Munich's third choice forward since returning to the club for a second spell in 2012, and while his appearances has been predictably limited to 13 across all competitions, a return of 13 goals is fairly remarkable. Although any English clubs tempted by a punt will be quickly reminded of his dismal stint with Chelsea in 2007, clubs across the continent in search of a dependable back up could do a lot worse than the 34-year-old, if he relishes one more challenge in Europe.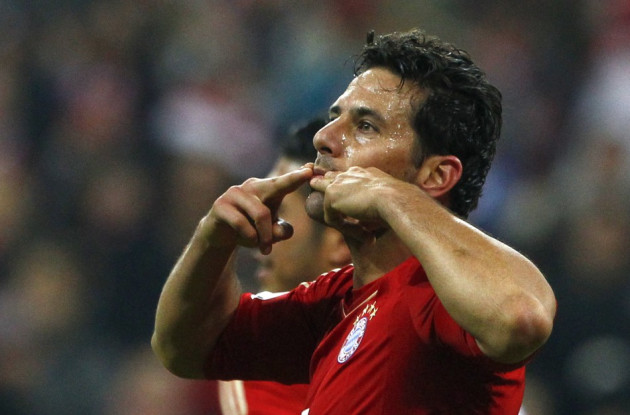 Forward: Javier Saviola
Once billed as the latest Argentine prodigy destined to reach the summit of world football, 31-year-old Saviola has endured a nomadic career, albeit between some of Europe's biggest clubs. Barcelona, Real Madrid, Monaco, Sevilla, Benfica and Malaga have all been stopping off points for the Argentine, whose contract is set to expire again this summer, but the striker has been linked with a return to Argentina with his club mate and compatriot Martin Demichelis to River Plate, although a move to the MLS has also been touted.