Manager of the season? Signing of the season? Away with you, generic award titles. The 2012/13 Alternative Premier League Awards aims to recognise and honour those more obscure moments that have graced this season, and see to it that such occasions are forever remembered.
The Jonathan Woodgate Award For One Horrendously Bad Day At The Office
Winner: Jon Walters
When Jonathan Woodgate finally made his debut for Real Madrid in 2005, dreams of a standing ovation from a tearful Bernabeu crowd were swiftly discarded when the former Leeds United defender netted a spectacular own goal before being sent off. Eight years later, Stoke City's Jonathan Walters would endure a similarly disheartening day at the office against Chelsea.
Although the Republic of Ireland international was spared the indignity of being given his marching orders, Walters was to power two bullet headers past his own baffled goalkeeper Asmir Begovic, before compounding his misery by missing a penalty. Quite a way to mark his 100th Premier League appearance.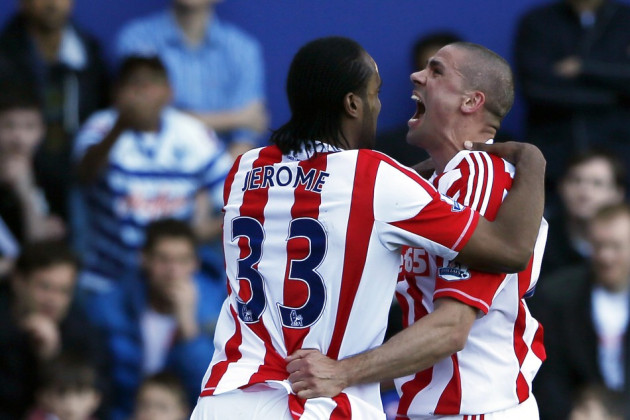 The William Gallas Award For Hilarious Schoolyard Tantrum
Winner: Youssouf Mulumbu
If the image of Willam Gallas sitting on the turf of St Andrews in 2008 with his eyes watering were a reminder of when it all got too much during a lunchtime kickaround at school, Youssouf Mulumbu's extraordinary antics this season is surely the reaction we all wish we had gone for. The Baggies midfielder lost his rag during the conclusion of his side's 3-1 defeat to West Ham earlier this year in the most spectacular fashion.
The towering midfielder didn't take kindly to being chased down by Gary O'Neil, and decided to let his feelings known by picking up the ball and drop kicking it as hard as he could in direction of the Hammers defender. Steve Clarke said after the game that incident was probably one out of frustration, a line of reasoning that will scoop the coveted Understatement of the Season award.
The Joey Barton Award For Services to Social Media
Winner: Ashley Cole and Ryan Bertrand
A footballer without a Twitter account is now an alien concept, and considering some of the stars of our game have a habit of putting their foot in it, expressing views on a medium that is used by approximately 190 million people a month is bound to throw out the odd faux pas.
This award has been hotly contested. Recognition must be dished out to Bolton forward Marvin Sordell who kindly chose to explain to one and all the etymological background of 'banter', the word used liberally by footballers to convey their most deep and philosophical processes. With Sordell's simple tweet of 'when I include 'LOL' or 'HAHA' in a tweet it usually means im having banter #decodingbantertips', the mysteries of the world were explained.
But the winners of this category go to two individuals who share the same club, the same position and the same misguided use of a sweary hashtag. After being accused of changing his evidence to support John Terry in the centre half's investigation into racial abuse last October, Cole chose Twitter as the perfect place to slate his profession's national governing body, tweeting "Hahahahaa, well done #fa I lied did I, #BUNCHOFT***S".
Not to be outdone, the possible heir to the Chelsea and England left back slot took just a week to mount his own expletive-ridden rant when it was suggested he pulled out of England duty because he was suffering from a sore throat. Bertrand responded with:
"Do you think a "sorethroat" could stop me being apart of a match form my club or county #yourf*****gnuts this is what ever boy dreams of"
#wtf.
Best Lead Performance On January Deadline Day
Winner: Peter Odemwingie
Just in case Danny Graham moving to Sunderland or Norwich City swooping for Luciano Becchio didn't blow your hair back on transfer deadline day in January, Peter Odemwingie's chronicle was a saving grace. As QPR continued their desperate mission to sign anyone with the compelling combination of Premier League experience and a pulse, Odemwingie was seemingly snapped up by the R's and immediately got in his car and sped towards London.
Unbeknownst to him, QPR and West Brom had failed to agree on a fee and refused to give the Nigerian international permission to talk to the club. With no deal on the table, a confused Odemwingie was left to see out the remainder of deadline day in his car outside Loftus Road.
Peace Prize for Winning Over Fans in the Face of Adversity
Winner: Andre Santos
If you are failing to convince fans with your patchy performances, what better way to endear yourself than a warm embrace with their most vilified figure on the planet before begging him to swap shirts with you? Having opened the scoring against his former club, Arsenal fans were already miffed with Manchester United forward Robin van Persie when it took all of three minutes to score against his old side.
And it took Santos just 45 minutes to approach his former teammate to ask for the Dutchman's shirt, seemingly worried that there would be a queue of Gunners waiting to get their hands on it. The images left Arsenal fans frothing at the mouth with Piers Morgan calling for the Brazilian to never play for the club again.
The Will He Won't he Award for Mind Numbingly Tedious Contract Saga
Winner: Theo Walcott
In a saga that dragged on throughout the first half of the season that spawned column inches and Gunner anxiety aplenty, Theo Walcott's contract negotiations proved to be the most wearisome of the season. Having seen Robin van Persie, Alex Song, Cesc Fabregas, and erm, Alexander Hleb leave the club in search of greater success in previous seasons, it seemed the former Southampton man had decided he might have to follow suit.
Despite being linked with a number of moves, including a switch to Liverpool and the frankly hilarious proposition of being reunited with van Persie at Old Trafford, Walcott would eventually put us all out of our misery and put pen to paper on a new long term deal in January.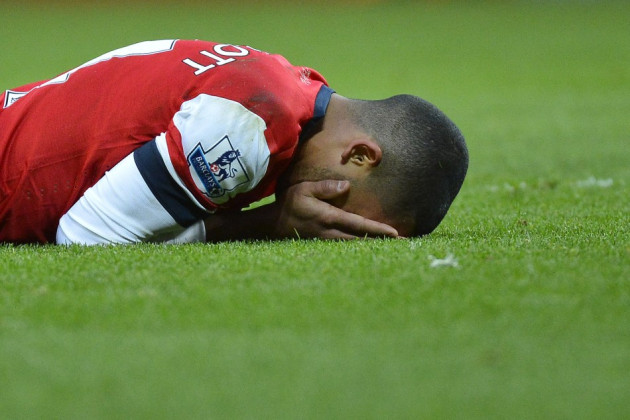 The Kevin Keegan Award for an Inevitably Self-Defeating Rant
Winner: Rafa Benitez
While he was hardly a Stamford Bridge sweetheart prior to his side's 2-0 win over Middlesbrough back in February, Benitez's comments where he criticised the club's board and urged Chelsea fans to wise up and look at the bigger picture stamped all over the already brittle relationship.
In what was more of an impassioned monologue than a rant, Benitez called the club's hierarchy out for labelling him as an 'interim' manager, a title he felt made him a target from his first day through the doors. For the fans who constantly chanted for his dismissal while brandishing banners knocked together with a bed sheet and blue crayon, Benitez urged them to realise this was a season of transition.
His comments, while perfectly reasonable, did little to reduce the disdain emanating around Stamford Bridge, so the Spaniard went down a different route; winning the Europa League. Rafa out indeed.