Premier League Comes to India: IPL-Style Football Fest Planned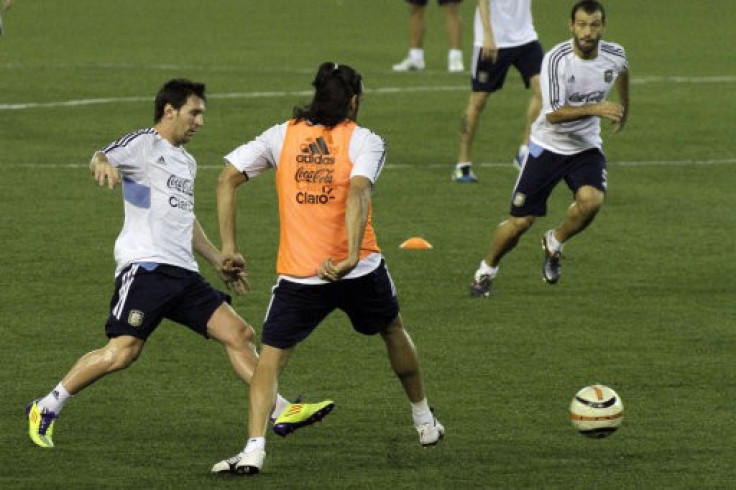 The lure of all the glamour, style and, most importantly, money that the world of European club football and cricket's Indian Premier League (IPL) finally proved too strong to resist.
After the visible and seemingly ever-growing success of the IPL, the administrators of football in India have woken up to a potential cash cow... one that could, conceivably, be re-created to suit their sport... and, despite the fact that India is a country that usually has room only for one sport, raise its profile and visibility.
Premier League Soccer (PLS), as it has been titled, is an adaptation of the IPL and a chance for football-starved Indian fans to see some of the biggest names in recent history strut their stuff.
Soccer and India
Although soccer is not very popular in most parts of India, the fact remains that people do enjoy watching games and do support hometown clubs. They do recognise and cheer for club heroes and can always be relied upon to create a degree of passionate atmospheres for local rivalries. More importantly, they are genuinely passionate about the sport, if the intensity of their support for clubs in England, Spain and Italy are anything to go by.
The sport is more popular in north-eastern India (Manipur, Sikkim, Assam, Mizoram, etc.) and West Bengal, where people enjoy both watching and playing the game. In the latter state, for example, the rivalry between two clubs - East Bengal (now known as Kingfisher East Bengal Football Club) and Mohun Bagan - has enough history and eccentricity to rival the more famous European ones.
For example, did you know that depending on the result of a game between the above two sides, the prices of prawns and Hilsa (a kind of fish) vary? Basically, if Mohun Bagan wins, their fans celebrate by cooking dishes made of prawns and if East Bengal wins, their fans celebrate with the Hilsa!
As a result of the state's rich and sometimes crazy soccer background, the sport's governing body in India - the All India Football Federation (AIFF) - has handed responsibility for the inaugural PLS to the Indian Football Association (IFA) - the governing body for football in West Bengal. Incidentally, the fact that a state's governing body seems to speak for the country should be evidence enough of the hold football has in the region.
The commercial and marketing partners for the event will be the Celebrity Management Group (CMG), who were key in bringing Diego Maradona, the former Argentinean wizard, to India. They have signed a 30-year deal, indicating the strong possibility the IPLS is here to stay.
Inspiration for the PLS
The actual idea of setting up a professional football league in India may well have owed its origin to the string of international football teams and stars who have been coming to India (and especially West Bengal)... a trend that has been markedly on the rise.
In the recent past alone, for example, the Argentinean national team (complete with the likes of Leo Messi and Gonzalo Higuain) played the Venezuelans in a friendly at Kolkata's Salt Lake Stadium. The 120,00 capacity stadium was sold out despite high ticket prices (Rs. 1,000, Rs. 5,000).
The crowds were no less than those in 2008, when former German international goalkeeper Oliver Kahn played a testimonial (along with his club side - FC Bayern Munich) and Maradona were in action.
More recently, Bayern Munich were back in the country for their second visit, early in 2012, when they played a one-off game with the Indian national team to mark Indian striker and captain Bhaichung Bhutia's retirement.
What to Expect
"Developing and promoting the quality of football is of the greatest importance and all of us will take the necessary steps to make this tournament a success," the India Blooms News Service quoted IFA secretary Utpal Kumar Ganguly, as saying.
The PLS has ambitious aims - to achieve the same level of success that European clubs enjoy. It has one considerable advantage.
It is being offered to the Indian sports aficionado at a time when cricket is going through a bit of a crisis... poor performances by the national side, allegations of indifference and the about-face of Sahara as the official sponsor of the national team.
"Looking at the current situation, the IPL bosses should be more concerned about the PLS. I can say, through PLS, football is throwing a challenge at cricket," Ganguly was quoted as saying in a report by Zee News.
As far as the tournament itself is concerned, there will be a total of 35 games (including five knock-out matches) between 6 franchises, which are:
1. Kolkata Camelians (owned by Camelia Group),
2. Barasat Euro Musketeers (owned by Uro Infra Realty India Limited),
3. Durgapur Vox Champions (owned by Tulip Infonet and Synsys Infotech),
4. Howrah Manchester (owned by Synsys Infotech),
5. Bengal Tuskers (owned by Aajay Consultants), and
6. Haldia (owned by Grey Mind Communications).
The teams will be playing not only for history but also Rs. 1.5 crores (£195,442).
"We have started with six teams this year, all in the state of West Bengal but have already been approached to expand the league to other parts of the country," firstpost.com quoted Bhaswar Goswami, the Executive Director of CMG as saying
"Every team will have $2.5 million to spend in the first year. They will have a maximum of four foreigners and, compulsorily, six under-21 Indian players in their squad. We saw the hype and buzz around players' auction in IPL and feel it can be an equal success. It's a brilliant concept. We expect owners to make profit much earlier than the IPL franchises," he added.
Goswami, who is currently finalizing television broadcast rights across Southeast Asia, also said they made the right decision by starting PLS in West Bengal, where people are football freaks. He believes it will boost the morale of local players, who will get to be on the same field as their idols.
"I am proud to be the first Frenchman to go and play there. And eight weeks is nothing," French footballer Robert Pires was quoted by www.lequipe.fr as saying.
India's Premier League Soccer, whether it sinks or swims, is set to be an iconic page in the country and its association with sports.
The tournament will kick off on March 24... until then, we can only wait!
Must Read:
Indian Premier League Soccer: Six Locations, Stadiums and Cultures
Indian Premier League Soccer: Cannavaro, Pires and Crespo to Show Off in Kolkata
© Copyright IBTimes 2023. All rights reserved.