A UK official has denied allegations that Britain invited Nigerian President Muhammadu Buhari and members of militant groups to London for secret talks on how to halt renewed violence in the oil-rich Niger Delta region. Press and public affairs officer at the British High Commission in Abuja, Joe Abuku, said these claims were incorrect as Buhari was in London for a medical treatment.
"We are aware that President Buhari is currently in London seeking medical attention. We are not aware of any meetings on the Niger Delta while he is there," Abuku told the Vanguard newspaper.
Earlier in June, rumours spread that Buhari was spending 10 days in London to hold "secret talks" with militants and not to rest and treat an ear infection, as previously claimed. A source close to IBTimes UK confirmed the rumour and alleged former members of the Movement for the Emancipation of the Niger Delta (Mend) were travelling to London to attend secret talks.
The source also added talks could result in the release of pro-Biafran leader Nnamdi Kanu – who is standing trial in Nigeria on six counts of treasonable felony charges – in exchange for a ceasefire. IBTimes UK could not independently verify the claims.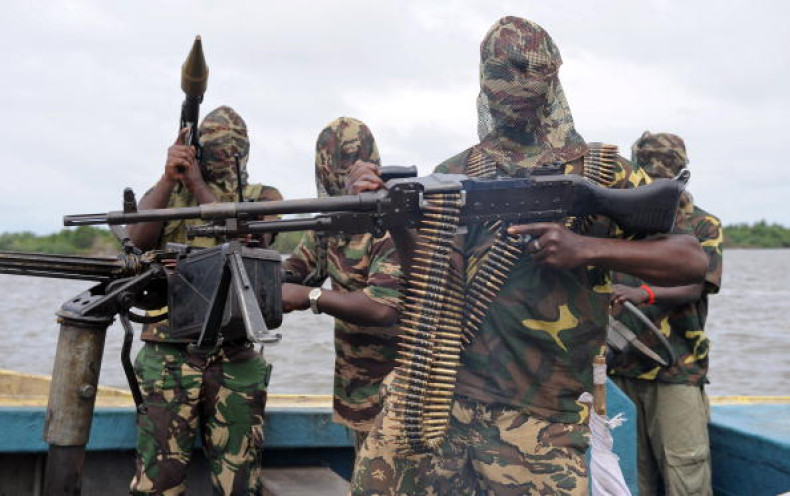 New violence in Niger Delta
The Niger Delta Avengers (NDA) is the latest militant organisation to wage war against Nigeria due to perceived marginalisation in the Niger Delta. Attacks blamed on NDA forced Chevron and Royal Dutch Shell to close two plants, with the group vowing to bring the country's oil production down "to zero". On Friday 10 June the group claimed responsibility for an attack at Agip's "major crude oil Line in Bayelsa State".
Nigeria, Africa's biggest oil producer, has already been negatively affected by renewed violence in the area as oil production has dropped to 1.6m barrels per day (bpd), from 2.2m bpd.
Earlier in June, the Nigerian government announced it would scale back its military presence in the Niger Delta in order to foster dialogue with militants and reduce attacks in the restive region. The change in strategy came after a new group, the Joint Niger Delta Liberation Force (JNDLF), warned of possible missile attacks on 7 June.
The birth of militant groups in Niger Delta
Militant groups in the oil-rich Niger Delta region took hold in the early 2000s following the deterioration of people's living conditions blamed on the increase of oil-related activities by foreign exploration corporations. Tensions flared up in the local communities as some ethnic groups felt they were being exploited and did not benefit from the crude oil on their land.
The repeated oil spills that considerably damaged the environment and affected inhabitants health further deepened the communities' frustrations. After being elected in 2015, Buhari extended a 2009 amnesty granted to 30,000 former militants.