Nnamdi Kanu: Trial of pro-Biafra leader adjourned as row over witness anonymity continues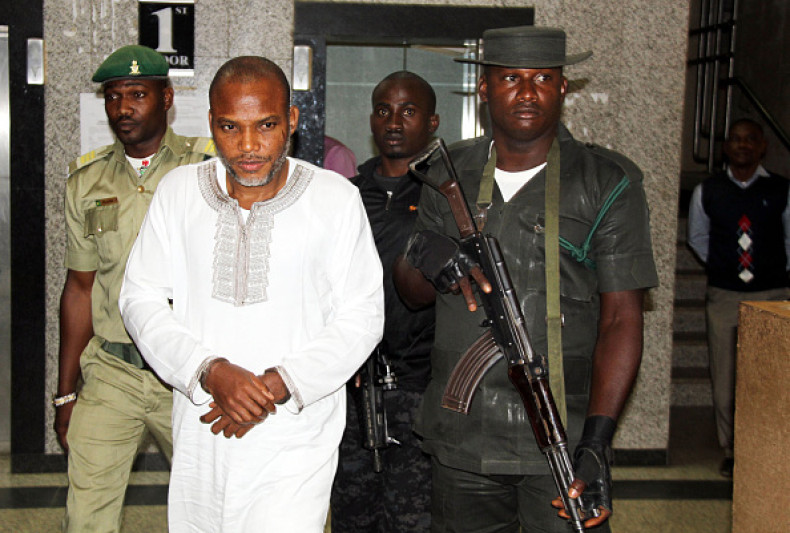 The Nigerian trial of a pro-Biafra leader accused of treason has been adjourned as a row continues over whether witnesses should be allowed to give evidence anonymously. Nnamdi Kanu, the British-Nigerian leader of Indigenous People of Biafra (Ipob), was due to face charges at the Federal High Court in Abuja on 5 April.
His arrest, by Nigeria's State Security Service (DSS), in October 2015 followed his group's role in a call for the independence of territories that constituted the Republic of Biafra – established in 1967 and reannexed to Nigeria in 1970. Regular marches in the south-east of the country have seen clashes with security services and accusations, by Biafra supporters, of state repression.
Kanu, who is also director of the UK-based Radio Biafra, was due to face six charges of treasonable felony on Tuesday. But his lawyer, Chuks Muoma, asked the court for a stay of proceedings pending an appeal his team had submitted against a previous court ruling.
At a hearing on 7 March, Hon. Justice John Tsoho ruled witnesses could testify behind protective screens, as requested by the prosecution. This was then appealed by Kanu's lawyers.
On 5 April Tsoho agreed to adjourn proceedings until 26 April. Ipob supporters have long called for their leader's release and claim he is being held unjustly.
Lawyers for Kanu, who denies all charges against him, this month called on the UK government to intervene in the trial and stop alleged attempts by the Nigerian government "to subvert the course of justice". In a letter to the British High Commission in Abuja, his defence team said they had been denied access to materials and facilities relevant to the case.
The British High Commisson is yet to reply, but a response to a freedom of information request submitted by IBTimes UK to the UK's Foreign and Commonwealth Office (FCO) said: "The British government only provides consular assistance to dual nationals in the country of their other nationality in exceptional circumstances. If the High Commission is approached for consular assistance by a British national in Nigeria who also holds a Nigerian passport, the level of support that could be offered in their case would be discussed with the individual concerned."
The FCO added British officials visited Kanu in prison on 2 and 17 November 2015, but refused to disclose further details so as not to breach data protection principles.