Nigeria's decision to scale down military presence in the oil-rich Niger Delta region and start a dialogue with the newly-established militant group Niger Delta Avengers (NDA) can be a good short-term strategy to negotiate with the group before it becomes uncontrollable, a counter-terrorism expert has told IBTimes UK.
NDA is the latest militant organisation to wage war against Nigeria due to perceived marginalisation in the Niger Delta. Attacks blamed on NDA forced Chevron and Royal Dutch Shell to close two plants, with the group vowing to bring the country's oil production down "to zero".
Nigeria, Africa's biggest oil producer, has already been negatively impacted by renewed violence in the area as oil production has dropped to 1.6m barrels per day (bpd), from 2.2m bpd.
"The Nigerian government is facing threats in the North East, North West, Middle Belt regions, South East and South South. An early dialogue is welcomed because President Muhammadu Buhari has often warned against past governments letting small fires becoming uncontrollable like in the Boko Haram case," David Otto, CEO of UK-based global security provider TGS Intelligence Consultants, explained.
"Negotiations are good but they open floodgates, especially on areas where natural resources are highly needed for economic sustainability. Lines must be drawn on the sand. A particular region cannot drag the government in the mud because they sit on needed resources."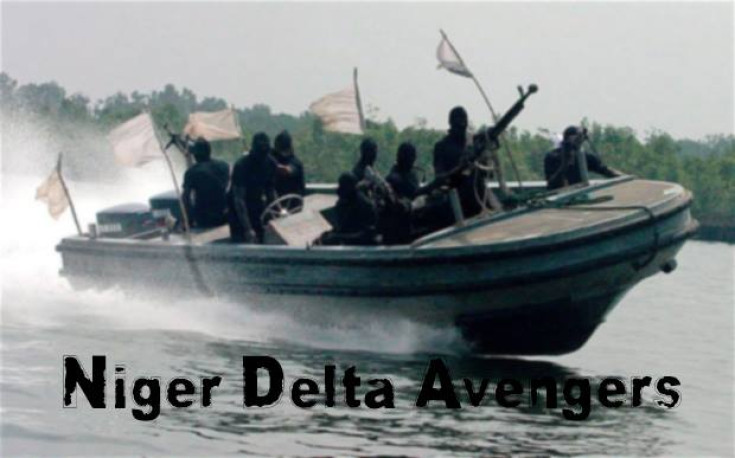 Buhari

could '

hold talks with militants'

in London
Following the government's proposal to initiate a dialogue with militants, NDA took to Twitter to state it was against any negotiation. The group also claimed responsibility for another attack at a Chevron-owned oil facility in Warri, Delta state, on 8 June.
NDA released the statement hours after rumours spread that Buhari was spending 10 days in London to hold "secret talks" with militants and not to rest and treat an ear infection, as previously claimed.
A source close to IBTimes UK confirmed the rumour and alleged former members of the Movement for the Emancipation of the Niger Delta (Mend) were travelling to London to attend talks instead of NDA, upon invitation by the UK government.
Earlier in May, Mend's commander Chief Government Ekpemupolo, or "Tompolo" as he is also known, publicly distanced himself from NDA, causing the anger of the newly established group.
The source also added talks could result in the extradition of pro-Biafran leader Nnamdi Kanu – who is standing trial in Nigeria on six counts of treasonable felony charges – in exchange for a ceasefire. IBTimes UK could not independently verify the claims.
The birth of militant groups in Niger Delta
Militant groups in the oil-rich Niger Delta region took hold in the early 2000s following the deterioration of people's living conditions blamed on the increase of oil-related activities by foreign exploration corporations. Tensions flared up in the local communities as some ethnic groups felt they were being exploited and did not benefit from the crude oil on their land.
The repeated oil spills that considerably damaged the environment and affected people's health further deepened the communities' frustrations. After being elected in 2015, Buhari extended a 2009 amnesty granted to 30,000 former militants in the area.
The Foreign Office told IBTimes UK Buhari was in London on a private and not an official visit, and therefore it could not comment. Buhari's spokesperson and the Nigerian embassy in London did not reply to a request for a comment on the allegations. However, Femi Adesina, Buhari's special adviser on media and publicity, told the Punch website on 8 June Buhari was in London "to rest".
The leader had been scheduled to travel to Ogoniland, in the Niger Delta, to discuss with regional leaders ways to tackle renewed violence in the region and to launch a clean-up operation in areas polluted by years of oil spills. Buhari, however, cancelled the visit.
Just before the cancellation, IBTimes UK reported that a man suspected of belonging to the NDA warned the president's life would be in danger if he visited the Niger Delta.
UK 'might facilitate talks'
Otto confirmed possible talks could be held in London. However, he added it is not clear whether they will actually take place after the information was leaked.
"The peaceful ground for negotiation has been set up in London between representatives of both sides aligned with Biafra, NDA and equally the issue of El Zakzaky, with the UK playing the neutral party and facilitator role," he said. "It comes after the UK foreign secretary advised the Nigerian government not to use military strategy alone in dealing with NDA, as it would escalate the crisis and drive down the economy that it is still largely depending on oil revenue.
"Even if talks happen, disagreements between representatives could lead to a failed dialogue. It will depend on a balancing exercise against threats of missiles flying in the air or oil dropping to zero level in militants-controlled zones."
---
Nigeria up close: Check out our Flipboard magazine
---