San Bernardino shooting: Who are married shooters Syed Farook and Tashfeen Malik?
A married couple has been named as two of the shooters who killed 14 people at a centre for the disabled in California. Syed Farook, 28, and his wife Tashfeen Malik, 27, were shot dead by authorities after a massive search in San Bernardino. The pair met online and got together after US-born Farook travelled to Saudi Arabia, according to co-workers of the environmental health specialist. Police investigating possible motives behind the attack said they could not rule out terrorism at this stage.
The shooting targeted a Christmas party, for staff of the San Bernardino County's public health department, at the Inland Regional Centre training and support for people with disabilities. Farook was in attendance but left early after what was thought to be a dispute. "[He] did leave the party early under circumstances described as 'angry'," San Bernardino police Chief Jarrod Burguan told a news conference.
Farook returned later with his wife and the pair allegedly opened fire on the gathering. They were said to be wearing tactical-style gear, and at least 17 people were wounded in the assault. Police said they destroyed three suspected explosives devices similar to pipe bombs that were left at the scene.
A hunt was launched and Farook and Malik were eventually shot dead by police on San Bernardino Avenue. Aerial news footage showed security forces armoured vehicles blocking off a dark SUV with its windows shot out. Burguan said police were confident the couple were the culprits in the attack on the regional centre.
Colleagues said Farook was a devout Muslim but had never voiced any radical view. "He never struck me as a fanatic, he never struck me as suspicious," former co-worker Griselda Reisinger told the Los Angeles Times. Another colleague, Patrick Baccari, said Farook travelled to Saudi Arabia this spring and returned with Malik. Family members said the two had actually been married for two years, having met online.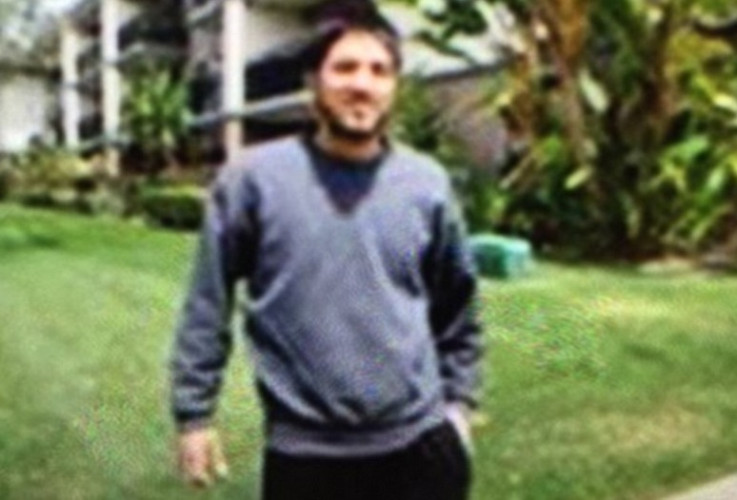 The profile picture of an online dating account believed to be of Syed Farook
Imilap
They recently had a baby and appeared to be "living the American dream", he said. Baccari, who was also at the Christmas party, said Farook left suddenly leaving his coat on his chair. He survived the subsequent carnage hiding inside a bathroom.
In online dating profiles believed to be his, Farook described himself as a six foot tall Chicago native of Pakistani descent who spoke Urdu. On one account he listed his family values as "Eastern and Western Mix".
Under the "more information" section he wrote: "I work for county as health, safety and environmental inspector. Enjoy working on vintage and modern cars, read religious books, enjoy eating out sometimes travel and just hang out in back yard doing target practice".
The profiles on imilap.com and dubaimatrimonial.com were probably set up six years ago as both listed his age as 22.
Farook's brother-in-law, Farhan Khan, told a hastily organised press conference at the Council on American-Islamic Relations in Anaheim, California, that he was shocked by what happened. "[I have] absolutely no idea why he would do this. I am shocked myself," he said. Hussam Ayloush, the executive director of the council, said the shooters had left their left their baby with family in the hours before the attack.