As he prepares to end his final term as President, Barack Obama joked that Prince George had broken with protocol by meeting him wearing his pj's. During the Obamas recent visit to Kensington Palace, the two-year-old royal was allowed to stay up late to personally thank the President and wife Michelle for a rocking horse they gifted him on his birth.
As it was his bedtime Prince George attended the historic meeting dressed in his gingham pyjamas and monogrammed dressing gown. While the President had earlier described the toddler as "adorable" in his speech at the White House Correspondents Dinner he joked that the young royals' informal approach was a sign of things to come and a " a slap in the face."
"Even some foreign leaders they have been looking ahead, anticipating my departure. Last week Prince George showed up to our meeting in his bath robe. That was a slap in the face. A clear breach of protocol," he quipped.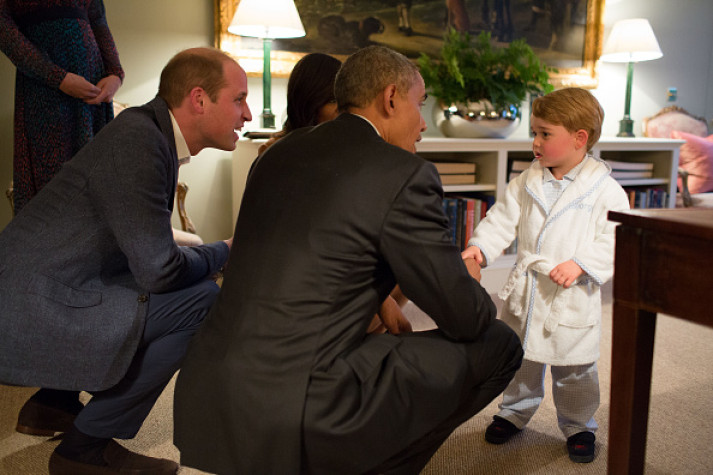 The President who was in the UK in April for an official four-day tour name-dropped the Queen, the Duke of Edinburgh and Prime Minister David Cameron as he also poked fun at himself in his traditional roast.
"While in England I did have lunch with Her Majesty the Queen, took in a performance of Shakespeare, hit the links with David Cameron," he said. "Just in case anybody is still debating whether I am black or not, I think that settles the debate."
It wasn't just the royals who took a roasting. While model Kendall Jenner made a stunning entrance at the White House Correspondents' Dinner Vivienne Westwood designer gown, she perhaps didn't expect to be personally name-checked by the President.
Referring to the reality TV star he said: "We had the chance to meet her backstage and she seems like a very nice woman. I'm not sure what she does but I'm told my Twitter mentions are about to go through the roof."
The model, who has 17 million followers on Twitter, seven million more than the White house's official Twitter account, told People the President sent a message for her sister Kim and her husband. "He was like: 'Say hi to Kim and Kanye', ".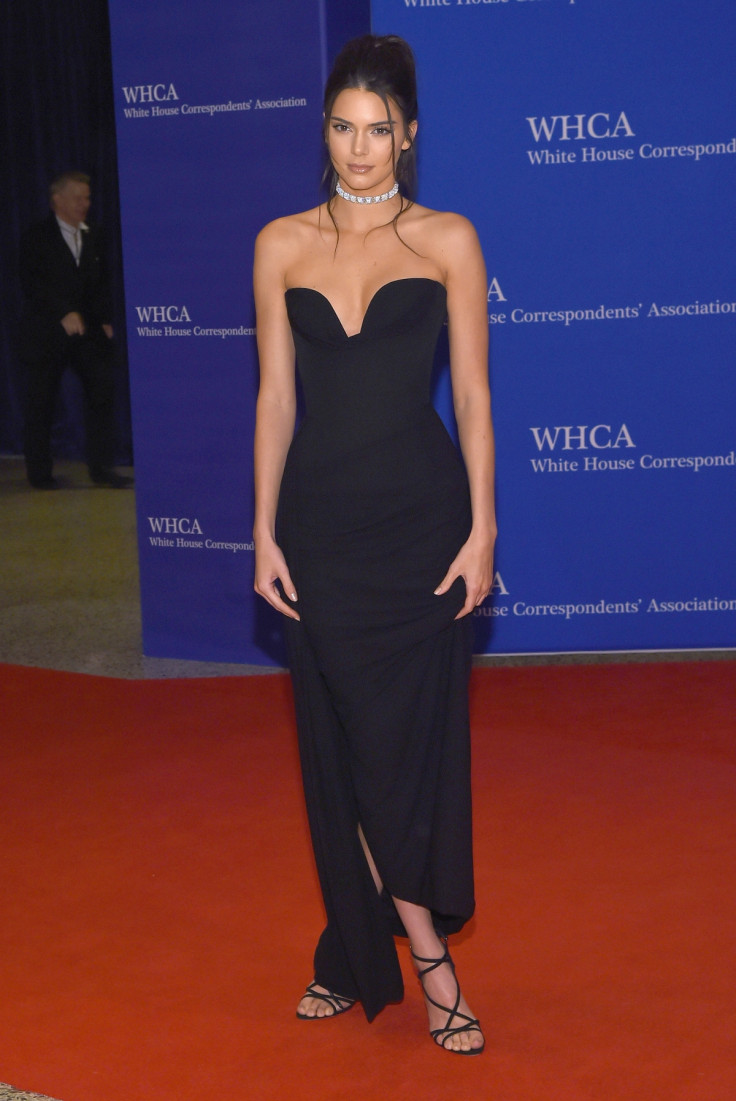 And while the President had no qualms about making Republican presidential candidate Donald Trump the butt of his jokes even he knew saying anything about British acting institution Helen Mirren was just crossing the line: "I don't have a joke here - I just think Helen Mirren is awesome."
Bollywood beauty Priyanka Chopra also got away without a roasting . Making an impression at the high profile event, The Quantico star who was recently named one of TIME magazine's 100 most influential people, took centre stage on the red carpet in a striking Zuhair Murad gown. The former Miss World later met President Obama and Michelle personally.
Posting a picture of her encounter with the Obamas on Instagram, the 33-year-old star wrote: "Lovely to meet the very funny and charming @barackobama and the beautiful @michelleobama. Thank you for a lovely evening. Cannot wait to start working on your girls education program."
The President and FLOTUS have been having some fun at the expense of the royals of late after the pair sent a video to Prince Harry challenging him ahead of the Invictus Games which are due to be held in Florida.
Facing the camera Michelle says: "Hey Prince Harry. Remember when you told us to bring it at the Invictus Games?" "Be careful what you wish for," Obama warns, in a mock threat, as one of the US troops pulling faces in the background hollers a feeble "boom", as if to underline the message.
But they were no match for Prince Harry who got his own back, posting a cutting riposte with a little help from none other than the Queen.