US President Barack Obama will address the spike in tensions that has followed the shootings of black men by police and the attack on police officers in Dallas, during a televised town hall discussion on Thursday (14 July).
Disney announced that the town hall will feature "candid discussions on race relations, justice, policing and equality," according to Politico. The town hall will be broadcast from Washington DC and will be moderated by ABC World News Tonight anchor David Muir and ESPN commentator and host Jemele Hill.
According to Politico, on Wednesday 13 July, Obama will host law enforcement, mayors, academics and activists at the White House to discuss the recommendations from the task force on "21st Century Policing". In a Facebook post, the president called on Americans to share "how we can address these challenges together as one nation."
The post continued: "That means you. Whether you're a police officer working to keep our communities safe, an activist marching and organising, or anyone else, you can share your story and ideas".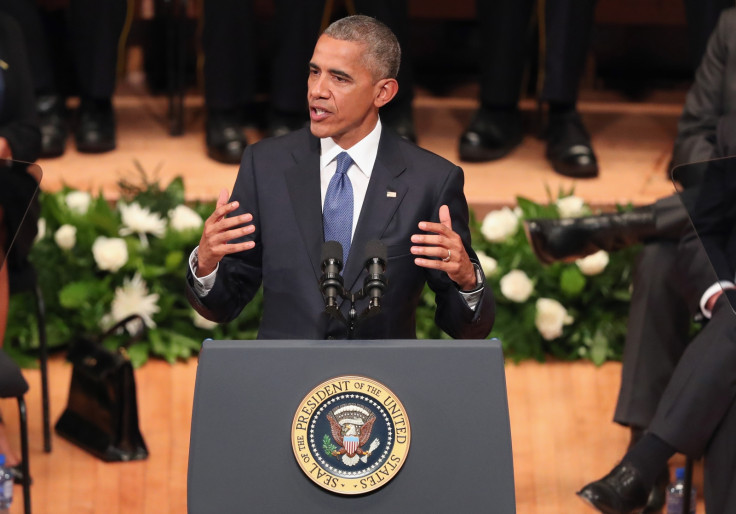 Both events follow Obama's speech during the Dallas memorial on 12 July, held for the five officers killed. "We turn on the TV or surf the internet, and we can watch positions harden and lines drawn and people retreat to their respective corners," he said.
"We see all this, and it's hard not to think sometimes that the centre won't hold. And that things might get worse. I understand. I understand how Americans are feeling. ...I'm here to say we must reject such despair. I'm here to insist that we are not as divided as we seem. And I know that because I know America."
The one-hour town hall will be broadcast at 8pm EDT/1am BST on 14 July, ABC News reported. Viewers will be able to tune in to the town hall on Disney's primetime channel ABC, as well as on ESPN, FreeForm, ABCNews.com, FreeForm Digital, Watch ABC, Watch ESPN, Yahoo, ABC Radio and ABC News' Facebook page and YouTube channel.