US President Barack Obama and former President George W Bush stood together on a Dallas platform to honour the five police officers shot dead in the city on 7 July. Micah "Xavier" Johnson shot dead all five as part of a vendetta against white people and the police before being killed by a bomb attached to a robot.
The killings in Dallas followed the killings of two black men by police in the preceding days. Philando Castile was killed in Minnesota as his partner streamed the incident live on Facebook. Alton Sterling was shot dead in Baton Rouge, Louisiana as police arrested him. Footage of the killing was posted online. The deaths provoked outcry and it was at a Black Lives Matter demonstration in Dallas when the officers were killed.
The families of the murdered officers were present at the memorial, as were many serving officers. Dallas Mayor Michael S. Rawlings said: "Unity among faiths, unity among police and citizens, and, yes, unity among politicians. In recent days I've seen unity, even before that tragedy, when police and protesters mingled peacefully."
George Bush said: "These slain officers were the best among us. Most of us imagine that if the moment called for it we would risk our lives to protect a spouse or a child. Those wearing the uniform assume that risk for the safety of strangers."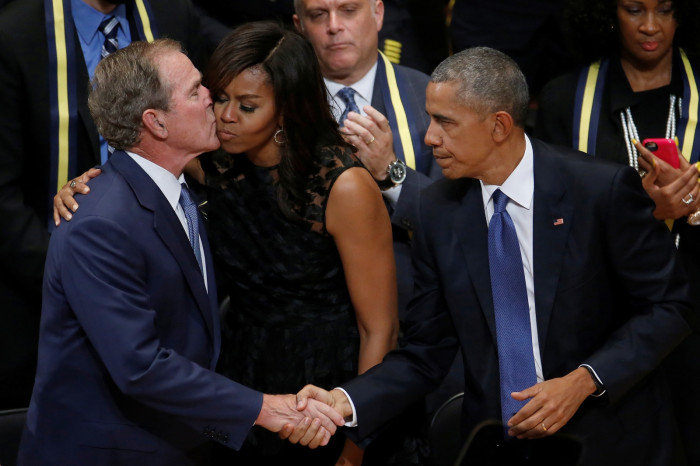 The violence has once again highlighted racial tensions and the level of gun crime in the US. President Obama, standing beside wife Michelle, addressed some of these tensions which have cast a dark shadow over the final months of his presidency.
Obama, making his 11th visit to the scene of a major shooting during his eight-year presidency, said: "I'm here to insist that we are not as divided as we seem. And I know that because I know America. I know how far we've come against impossible odds. I know we'll make it because of what I've experienced in my own life. What I've seen of this country and its people, their goodness and decency as president of the United States."