Vietnamese victims of the infamous defoliant Agent Orange are urging President Barack Obama to do more to address the ongoing health problems its use 40 years ago is still causing the country. The defoliant – a mixture of two herbicides – was used by the US military to destroy swathes of jungles the Communist Viet Cong guerilla fighters were using to hide in during the Vietnam War.
Agent Orange contained dioxin, an extremely poisonous substance that has caused severe birth defects in three generations of Vietnamese, affecting up to four million people, according to the Vietnamese government. The US government has long denied any connection between the use of Agent Orange and endemic health issues in Vietnam, dismissing the Vietnamese government's data on its effects as unreliable. However, it does pay compensation to American veterans suffering from exposure to the herbicide.
Now, Sky News has reported that prominent Vietnamese health campaigners are asking for Obama to meet with people forced to live with the effects of Agent Orange when he visits the country this week. Nguyen Thi Hien, the president of the Da Nang Association for Victims of Agent Orange, called upon the US president to visit one of the country's many victim centres.
"If you compensate US veterans it means you recognise and acknowledge that those who served in the war are Agent Orange victims, why can't you recognise justice for the victims here? We are all victims of the same thing – it's not fair," she said.
Also on the agenda for Obama's first visit to the country, is the lifting of the 32-year arms embargo, which Vietnamese authorities want but which China opposes. Obama has said his administration wants to "upgrade" the relationship between the two nations, but weapons deals could be a sticking point due to Vietnam's record on human rights. The US also wants to be able to build military bases on Vietnamese soil and to open the still-Communist country up for new trade deals.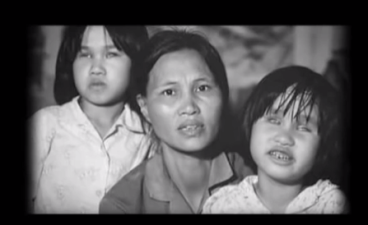 "What we want to demonstrate with this visit is a significant upgrade in the relationship between the United States and Vietnam… even as we have areas of difference," said Ben Rhodes, Obama's deputy national security adviser.
The US military sprayed an estimated 12m gallons of Agent Orange during the course of America's involvement in the civil war, primarily during Operation Ranch Hand during 1967-1969. However, the Vietnamese government began spraying the chemical in 1961, without US assistance. Agent Orange's precursors were developed in the 1950s by US and British scientists for military use. And Britain was the first country to use defoliants, during the 1948-1960 conflict in Malay between British colonial forces and the communist Malayan National Liberation Army (MNLA).