President Donald Trump has asked for an "examination of every executive department and agency" in an Executive Order that he says will make the federal government "more efficient and very, very cost productive".
The order, entitled the Comprehensive Plan for Reorganizing the Executive Branch, states that it is "intended to improve the efficiency, effectiveness, and accountability of the executive branch by directing the Director of the Office of Management and Budget (OMB) to propose a plan to reorganize governmental functions and eliminate unnecessary agencies".
OMB Director Mick Mulvaney will oversee an evaluation throughout the federal government, Trump said on Monday (13 March), adding that from the evaluation a plan would be put together to "make the federal government work better".
The new administration's first budget, set to be unveiled on Thursday, has been trailed as enacting large cuts to some federal agencies while increasing military spending by $54bn. On Monday the Washington Post reported that the budget proposal would see a "historic contraction of the federal workforce" and lead to layoffs that could lead to a 1.9% reduction in employment in the Washington area, according to analysts.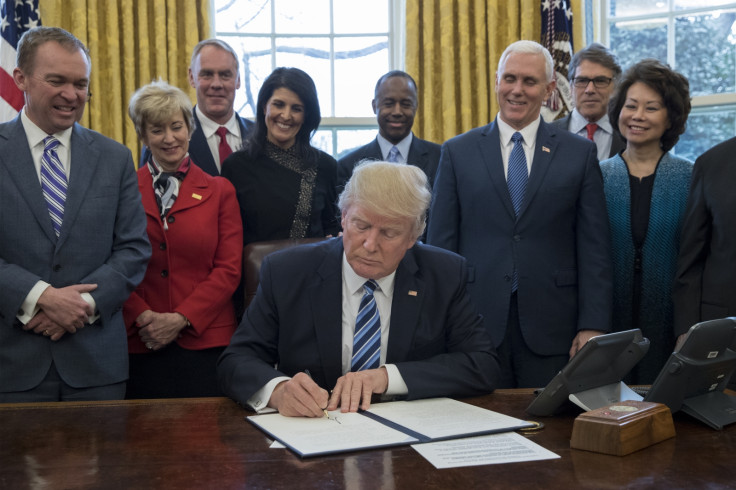 The Department of State is likely to be hit hard by the budget cuts. When asked by reporters last week whether it might have an effect on US influence around the world, Acting State Department Spokesperson Mark Toner said that he would not speak of specific figures but that "Secretary Tillerson is resolved to ensure that this building, that its mission – missions, embassies and consulates overseas have the necessary resources to carry out their mission."
Some reports had suggested that the State Department's budget is to be slashed by 37% but on Monday, Politico reported that those cuts would be lessened, with the larger bulk of the cuts spread out rather than pushed through at once.