Sean Spicer defends Trump's tweets: 'Wire-tapping' is different from wire-tapping
The press secretary tried to suggest that Trump meant other forms of surveillance.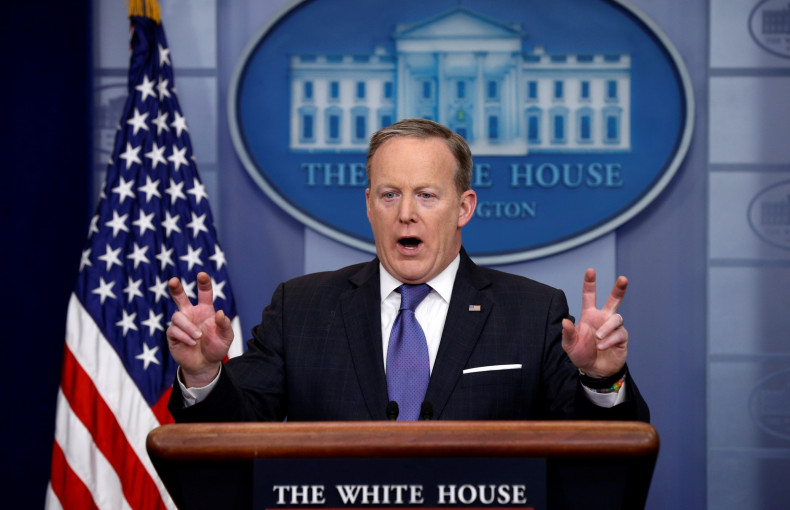 Press Secretary Sean Spicer has claimed that US President Donald Trump's "wire-tapping" claims were not meant literally, as he aimed to defend the Republican over tweets alleging that Barack Obama spied on Trump Tower during the election.
In his daily briefing with reporters on Monday (13 March), Spicer claimed that Trump's use of quotation marks around the words wire-tapping meant that he did not necessarily mean wire-tapping, but other forms of surveillance.
"If you look at the president's tweet, he said very clearly, quote, 'wire tapping' – in quotes," Spicer said in Monday's (13 March) briefing, making air quotes with his fingers to emphasise the point.
"There's been substantial discussion in several reports," Spicer went on. "There's been reports in the New York Times and the BBC and other outlets about other aspects of surveillance that have occurred.
"The president was very clear in his tweet that it was, you know, 'wire tapping' ­– that spans a whole host of surveillance types of options."
Despite Spicer's claims, two of Trump's four tweets about wire-tapping did not contain quotation marks and were explicit in their intended meaning.
Spicer also claimed that Trump did not mean Obama directly, but the Obama administration, in spite of Trump's tweets stating "Bad (or sick) guy!"
A week earlier, when Spicer was originally asked to comment about the wire-tapping accusation, he said the claim "speaks for itself" and declined to offer any additional insight.
Monday's comments came at the same time as the deadline for the Justice Department to provide any evidence on the wire-tapping claims to the House Intelligence Committee so they could investigate. However, the White House so far declined to provide any evidence to the committee.
Hours after the press conference, a Justice Department spokeswoman confirmed that they have contacted the House Intelligence Committee to request more time in compiling their evidence.
Obama, through a spokesman, has denied the allegations.