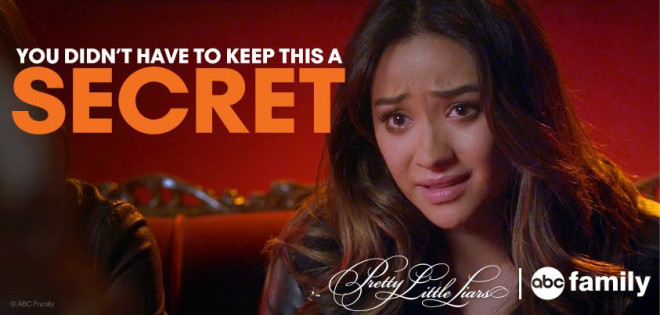 Pretty Little Liars is getting close to reveal the identity of 'A' during its finale and fans are more than eager to learn the truth.
The hit series has also renewed for a fifth season keeping fans guessing of what lies next for the 'liars'. The Latin Times revealed that the girls will be in 'grave danger' in the fast approaching new season of Pretty Little Liars.
Caution: Spoiler Ahead
From the season 4 finale sneak peak, viewers knows that the dreadful 'A' will come out of her camouflage before the girls and Alison will come out of the dead.
It will be exciting to watch how the pretty liars will react when they will learn about 'A' after all the exhaustive and tormenting harassment they faced because of her.
The unmasking of 'A' will not keep the liar girls away from danger as they will have to escape from 'A' in their small hometown Rosewood.
The mystery series is heading for its season four finale 'A is for Answer' promising more answers to the increasing questions about the secret and terrorising 'A'.
Season five is also going to showcase the complexities of the emotional relationships between Spencer, Aria, Hanna and Emily when they will learn that Alison is alive.
So what made Alison to return? How will she affect the other four liars? All these questions will be answered in the fifth season of the mystery drama.
It will be revealed that Alison is returning as a victim and not the sinner.
"Alison has totally changed, they don't know anything that she's been through yet and we have to find out the pain that she's felt and what she's gone through," says actress Sasha Pieterse during the 2014 Paleyfest.
Teasing the fans, Pretty Little Liars season 5 synopsis reads, "In the new season of the hit drama series, the Liars must dodge their dreaded nemesis 'A,' while navigating a world with Alison back in it.
"Alison's return is going to affect them all individually, it's going to affect them as a group, it's going to affect their relationships with their young male and female partners," explains the show producer Marlene King during a briefing at the 2014 Paleyfest in Los Angeles on Sunday.
"I think Season 5 is shaping up to be emotionally the most complex season we've had so far. We're having a lot of fun in the writer's room; it's a completely different show. There are five pretty little Liars now," she added.
"Pretty Little Liars" Season 4 finale is set to air on 17 March and season 5 is scheduled to premiere on June 10.