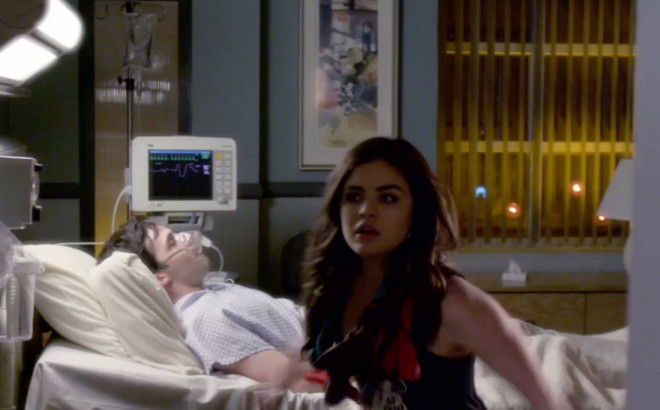 The Season 5 of Pretty Little Liars will premier only in June but the excitement has already started building up.
In the latest promo of Season 5, Aria is seen nursing her former lover Ezra. However, it is still unclear whether the English teacher will survive the gunshot wound he got during the Season 4 finale and even if he does, will 'A' allow him to live and spill the beans about his/her true identity?
The Season 4 ended without revealing the identity of 'A' and Ezra was fatally shot because he 'knew' something shocking about the dreaded 'A,' who made the liars' life miserable since the beginning of the show.
Meanwhile, ABC has released a Season 4 recap to build up the excitement for the new season and teases more conspiracy and betrayal in the upcoming series with the words: "ConspirAcy, DisloyAlty, TreAchery and BetrAyal."
The first episode of the mystery drama is titled 'Escape From New York,' and in it, the liars will meet Alison and Ali's mother Jessica DiLaurentis's mysterious murder may get solved.
In the Season 5 promo, the liars were seen confronting Ali to reveal everything she knows, entertainment website Sheknows reported.
"No more secrets, Ali," Hanna says to Ali, while Spencer adds: "Either you trust us or you don't."
In the Season 4 finale, Ali had revealed that it was her mother who tried to bury her alive. Fans hope the upcoming season will solve the mystery of who Jessica was trying to protect and who killed her.
After Ali's return, show runner Marlene King teases the comeback of Jenna (Tammin Sursok) and Mona (Janel Parrish) on her Instagram page and wrote, "This scene makes the show feel totally new again. You know what I'm talking about," reports Enstarz.
The Season 5 of the Pretty Little Liars will premiere on ABC Family on 10 June at 8pm.