Pretty Little Liars Season 5: Who Will Die in Fatal Finale and is Alison the Real A?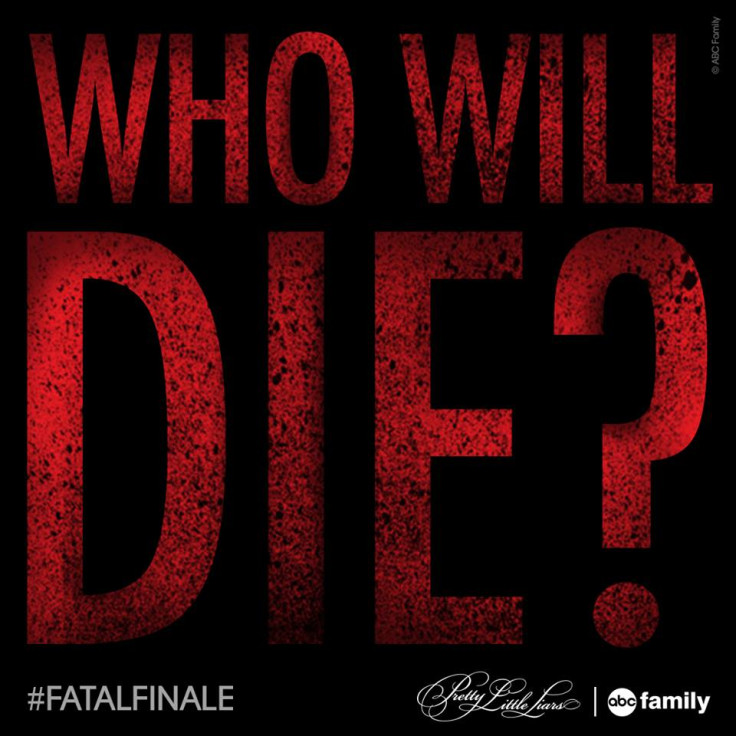 Pretty Little Liars' fatal finale is just days away and fans are eagerly waiting for the nail-biting summer episode which will feature one shocking death as revealed by the ABC Family.
But whose death can actually shock PLL fans?
Many fans suspect that either Mona will be killed by A or she will fake her own death as Alison did in Season 4.
Mona, who is constantly switching sides, has made a good deal of enemies for her at Rosewood.
However, Alison's suspicious actions in the last two episodes have kept fans guessing and some are concluding that it is Alison who will finally die in the mid season finale of PLL.
Caleb, on the other hand, is seeking alcohol as he is finding it difficult to sleep. Why is he unable to sleep and what is bothering him? Will he become a victim of A?
The teaser of the fatal finale sends chills down the spines when Ali visits Emily and says she never wanted things to be like this. What does she mean by that? Is she the real A?
In the pre-finale episode, the four liars Aria, Hanna, Spencer, and Emily were seen trying to figure out A's real identity and their suspicion ended with Alison.
Ali's absence from the entire episode fuelled the pretty liars' 'Ali is A' theory while Hanna, drew the conclusion. PLL fans, however, know how Hanna hates the former queen bee.
The mystery of Alison's identity grew deeper when both Mona and Paige came up with the shocking revelation that Ali is cooking something really big and is building her own army.
The fatal finale teaser released by the ABC Family shows Holbrook examining the crime scene of a possible murder site and says: "The amount of blood in the house would indicate that the victim's wounds were fatal. We have ruled this a homicide."
The official synopsis of the summer finale of PLL via Wetpaint reads:
"Feeling trapped by Alison and "A," the PLLs turn to an unlikely person for help in "Taking This One To The Grave."
With Alison leading them down a dangerous path and "A" barring them from telling the police the truth, Aria, Emily, Hanna and Spencer feel trapped and are desperate to find a way out of this mess. With nothing else to lose, could the PLLs lose everything by putting their faith in a possibly untrustworthy ally?
Meanwhile, Alison begins to build up her own army now that the PLLs have turned their back on her."
Pretty Little Liars summer finale will be aired on Tuesday, 26 August on ABC Family.
Who do you think will die in the fatal finale? Drop in your views in the comments section.
© Copyright IBTimes 2023. All rights reserved.