Theresa May paid tribute to murdered Labour MP Jo Cox as she called for unity in her New Year message on Saturday night (31 December).
The British prime minister borrowed part of the late mother-of-two's maiden speech in the House of Commons to issue the plea.
"As the fantastic MP Jo Cox, who was so tragically taken from us last year, put it: 'We are far more united and have far more in common than that which divides us'," she said.
"We have a golden opportunity to demonstrate that – to bring this country together as never before, so that whoever you are, wherever you live, our politics, economy and society work for you, not just a privileged few."
The comments come more than six months after Cox was killed by far-right terrorist Thomas Mair in her Batley and Spen constituency.
The 41-year-old was murdered just days before the EU referendum on 23 June, which saw 52% of voters back a Brexit.
"I know that the referendum last June was divisive at times. I know, of course, that not everyone shared the same point of view, or voted in the same way," May said. "But I know too that, as we face the opportunities ahead of us, our shared interests and ambitions can bring us together.
"We all want to see a Britain that is stronger than it is today. We all want a country that is fairer, so that everyone has the chance to succeed. We all want a nation that is safe and secure for our children and grandchildren."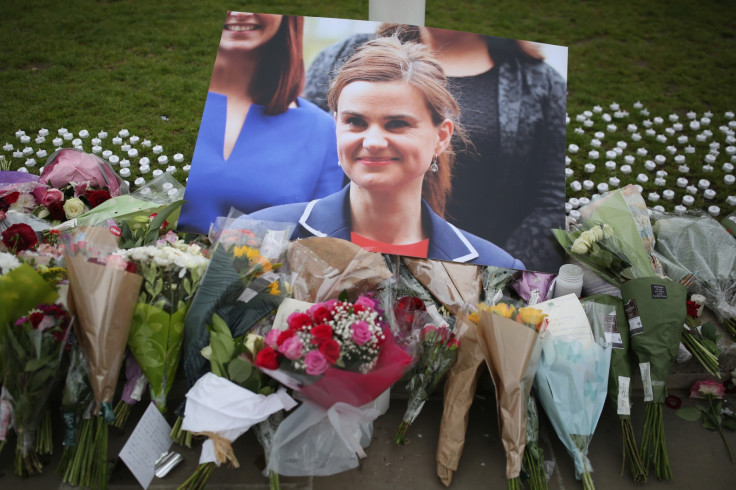 The Conservative premier also stressed that she would seek the best deal "for every single person" in the UK after she invokes Article 50, the mechanism to break from the EU, by the end of March 2017.
"Of course, the referendum laid bare some further divisions in our country – between those who are prospering, and those who are not; those who can easily buy their own home, send their children to a great school, find a secure job, and those who cannot; in short, those for whom our country works well, and those for whom it does not," she said.
"This is the year we need to pull down these barriers that hold people back, securing a better deal at home for ordinary, working people.
"The result will be a truly united Britain, in which we are all united in our citizenship of this great nation; united in the opportunities that are open to all our people; and united by the principle that it is only your talent and hard work that should determine your future."
The remarks follow Jeremy Corbyn's own New Year's message on Thursday night. The Labour leader suggested the Leave campaign won the referendum because of disillusionment with the political class and the EU.
"2016 will be defined in history by the referendum on our EU membership", he said. "People didn't trust politicians and they didn't trust the EU. I understand that. I've spent over 40 years in politics campaigning for a better way of doing things, standing up for people, taking on the establishment, and opposing decisions that would make us worse off."
Labour have promised not to block a Brexit, but the party has said they will seek an amendment to an Article 50 bill if the government does not unveil a "meaningful" plan.
The Supreme Court is expected to give a final ruling in January over whether MPs need to vote on triggering Article 50 or not.