Sarah Ferguson, Duchess of York, has defended ex-husband Prince Andrew in an emotional interview on a US TV show.
Speaking on NBC's Today show to plug a weight loss product, Ferguson, 55, said claims about the prince and an underage "sex-slave" were "salacious lies".
Although the couple divorced in 1996 after 10 years together they remain close and have two daughters, Beatrice and Eugenie. Ferguson says they remain a family unit.
"The great news is that Andrew and I and the girls are the best family unit there ever is and I know him extremely, extremely well," said Ferguson.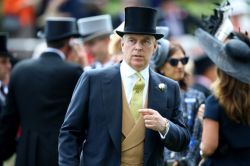 Asked by Today host Matt Lauer if she'd discussed the specifics of the case with Andrew she continued:
"I won't stand by - because I know what it feels like to have salacious lies made up about you - and not support him so publicly because they are just shockingly accusatory allegations which I don't think is right. It's defamation of character and as a great father and a humongously good man and all the work he does for Britain I won't stand by and let him have his character defamed to this level."
Andrew's name became linked to the scandal during a lawsuit in the US concerning Andrew's billionaire friend Jeffrey Epstein, who went to prison for soliciting an underage girl.
A US woman, Virginia Roberts, claims she was "was forced to have sexual relations with this prince when she was a minor." She was 17 when photographed with the Prince. Buckingham Palace has completely denied all the allegations, calling them "false and without any foundation."
This is the second time Ferguson has spoken out on behalf of her ex since the story broke. Last week during a skiing holiday with Andrew and daughter Eugenie in Switzerland she told reporters: "He is the greatest man there is. It was the finest moment of my life in 1986 when I married him. He is a great man, the best man in the world."