The Duke and Duchess of Cambridge spent Christmas morning enjoying a church service in Berkshire with their two children Prince George and Princess Charlotte.
In a break from tradition, Kate Middleton and Prince William have chosen to spend the festive period with Kate's parents Michael and Carol Middleton in Bucklebury, rather than gather at the church service at the Sandringham estate with other members of the royal family.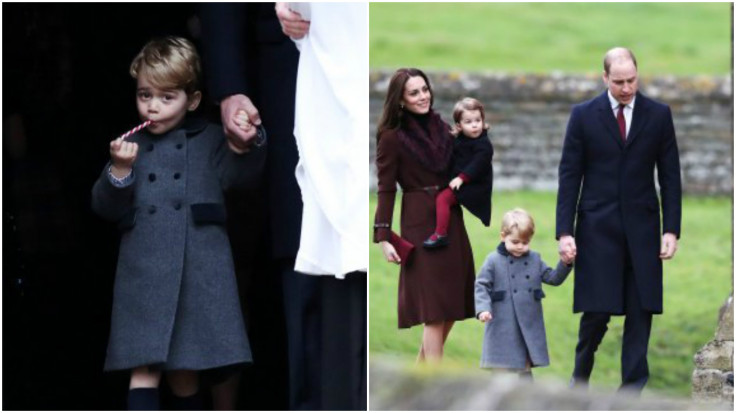 This did not include the Queen, who remained too ill to attend because of a heavy cold.
The royal couple and their children were also joined by Kate's brother, James Matthews and her newly-engaged sister, Pippa Middleton, at St Mark's Church, Englefield – where Pippa, 33, is set to marry next year.
Bells rang out as around 100 locals were seen entering for the 10.30am service, reported The Daily Mail.
The Duke and Duchess had wrapped their children up warm in co-ordinating navy coats, with George wearing a £120 ($147) Pepa and Co. wool coat – a favoured Spanish boutique fashion house among the household. Charlotte, meanwhile, was dressed in red festive tights and a darker coloured coat.
The young princess was initially carried by her mother Kate, 34, herself sporting a burgundy festive-coloured Hobbs Unlimited Celeste wool coat.
Prince George, 3, appeared to particularly enjoy the occasion, sucking on a candy cane with a look of mischievous guilt as the family left the Christmas communion service.
His 18-month-old sister Charlotte took a more creative approach, stabbing hers into the ground.
The visit took place 170 miles away from Sandringham, where many royals including Prince Charles, The Duchess of Cornwall, the Duke of Edinburgh, Prince Harry, the Earl of Wessex and Prince Andrew travelled from Sandringham House to St Mary Magdalene Church.
Family members enjoyed a private mass at 9am, before a second service at 11am. The Queen stood out as a notable absentee, staying at Sandringham Palace to recover from the heavy cold that disrupted travel plans earlier this week.
It is the first time in nearly 30-years that the monarch, the Governor of the Church of England, has missed the service, which she and her husband Prince Philip, 95, have attended every year since 1988.
However, her traditional Christmas message was still broadcast, which made reference to her faith as she looked back on the UK's Olympic success, the inspiration of ordinary people, and the joy of events to mark her 90th birthday held during 2016.
The speech marks the end of a difficult week for the royals, as the Queen recovers from her cold and her granddaughter Zara Tindall grieves for the loss of her unborn baby.