Christmastime is overwhelmingly a favourite-holiday among children, and young royals Prince George and Princess Charlotte will undoubtedly be big fans of Santa Claus by the time the festivities have passed.
Despite moments of questionable behaviour this year – including little George's snubbing of Canadian Prime Minister Justin Trudeau – the royal children appear to have made Father Christmas' good list.
The two lucky royals, three and 18 months, will receive 2.5ft- high Santa sacks fit for a king.
The beautiful, hand-printed personalised bags, by Dulwich firm Harrow & Green, have been snapped up by the children's mother, Kate Middleton. They are scheduled to be placed at the ends of their beds on Christmas Eve, according to the Mail.
The sacks cost just £27 each and were ordered from Selfridges in London. The creators describe them as "large enough to cater for even the most generous amount of Christmas presents". For an extra Christmassy feel, they were adorned with a special festive red and cream ticking that is exclusive to the department store.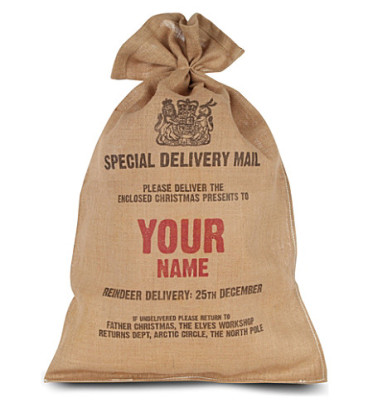 The crown is pertinently printed on the sack along with the words: "Express Mail Service Please deliver the enclosed presents to [Name] Delivery date: 25th December If undelivered please return to Father Christmas, The North Pole."
Though it was originally thought that William, Kate and the children would spend Christmas Day with the Queen and other senior members of the Royal Family at Sandringham House, Norfolk, the young family will join the duchess' parents on a shoot at the Yattendon Estate in nearby Thatcham.
A royal insider commented: "William did not want to shoot at Sandringham so Carole has negotiated a deal to shoot at the Yattendon Estate on Boxing Day.
"Special concessions have been made in light of Carole's royal connections. Pippa has also had a hand in organising it all as she will also be taking part with her husband-to-be."