New pictures of Prince George have been released as he prepares to celebrate his second Christmas.
Fittingly dubbed 'gorgeous George' the 17-month old toddler is seen sitting on the steps in the courtyard at Kensington Palace
His royal cuteness is dressed in a blue sleeveless jumper adorned with images of palace guards, in the photos taken last month.
The young prince, who is third in line to the throne, smiles mischievously in the pictures, revealing his dimples and while he has Kate's brown eyes, he bears an uncanny resemblance to his father Prince William at the same age.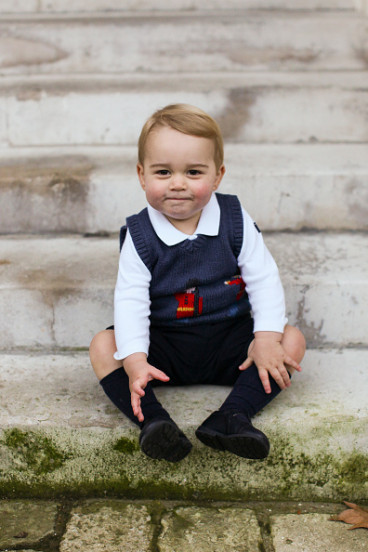 The shots were taken by Prince Harry's private secretary Ed Lane Fox, who has also worked as a freelance photographer.
They are the first official images released by the royal family since George's first birthday in July when he was seen at a butterfly exhibition at London's Natural History Museum.
The Duke and Duchess have not offered any reason for the release of the Christmas pictures, but it is believed to be a thank you to the media for honouring their request to allow the Prince to grow up without constant press intrusion.
The media were granted ample opportunity to photograph the future king when he joined his parents on a three-week tour of Australia and New Zealand. He did not however, accompany them on their recent visit to New York.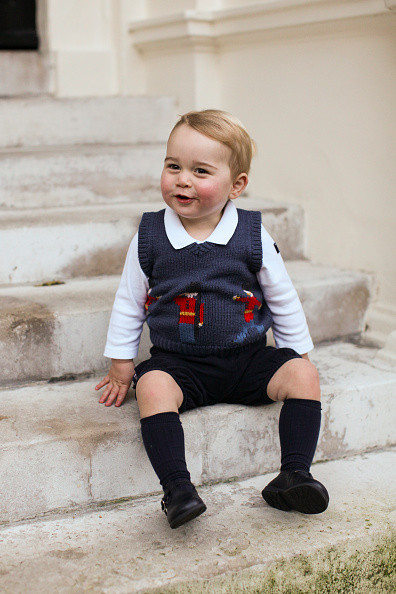 With Kate expecting the couple's second baby, the pictures mark George's last Christmas as an only child.
The couple announced in September that the Duchess of Cambridge was pregnant and is due to give birth in late April.