After spending Monday night mingling with more than 200 guests at a reconciliation ceremony with Canadian First Nations groups, the Duke and Duchess of Cambridge showed no signs of being sleep-deprived when they kicked off another busy day of engagements.
They started with a pit stop at Kelowna in the Okanagan Valley, where they met students at the Okanagan campus of The University of British Columbia. The visit was following by some indulging at the Taste of British Columbia festival at Mission Hill Winery before flying to Whitehorse, Yukon, where they met Canadian Rangers and were treated to a performance at the Kwanlin Dun Cultural Centre.
Those looking forward to seeing Prince George and Princess Charlotte were left disappointed as the royal siblings remained with their nanny in Victoria. However, they are expected to make an appearance at a children's tea party on Thursday (29 September).
IBTimes UK imagines the musings of Prince George if the toddler could write a diary.
Prince George's Diary
27 September
I haven't seen any bears yet but Mummy and Daddy played make-believe with Charlotte and me today and I got to be a big, bad bear. Charlotte got scared because my make-believe was so good.
I was sad when Mummy and Daddy had to go to work again because I always miss them. I like nanny Maria but Mummy gives the best cuddles. Today they went to a place called Ki- Low-Na to meet new friends at a school for really really big people. Daddy said his Mummy went there ages ago before she had to go to heaven.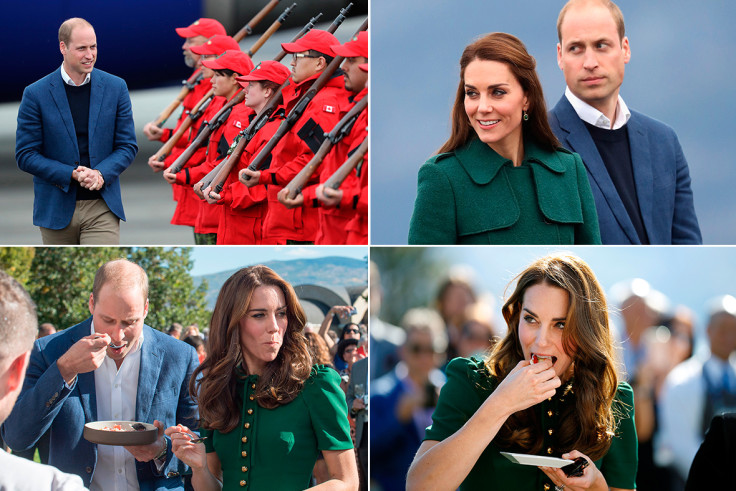 They don't just do "abc's" there, they also get lots of playtime. Mummy and Daddy told me on the phone that they got to watch people play the ball and net game that Daddy and I play sometimes. Their new friends gave them presents – special T-shirts with their names on it.
I had chicken nuggets and vegetables for lunch. I don't like runner beans but Mummy said they will make me big and strong like Daddy when I grow up so I eat lots and lots. Mummy and Daddy got to go to a place in the hills where they picked berries, ate curry and drank that red water. They ate a duck which was bad because you are only supposed to feed the ducks.
They didn't need a nap like I do after lunch so they got to see a Whitehorse to meet power rangers. There was more space on the plane this time around because Charlotte and I had to stay.
Because Mr Moon was already up Mummy and Daddy had to have a sleepover again because the night time is scary.
I'm so excited about my new friends coming to my party. I hope there is lots of cake. Just two more sleeps.