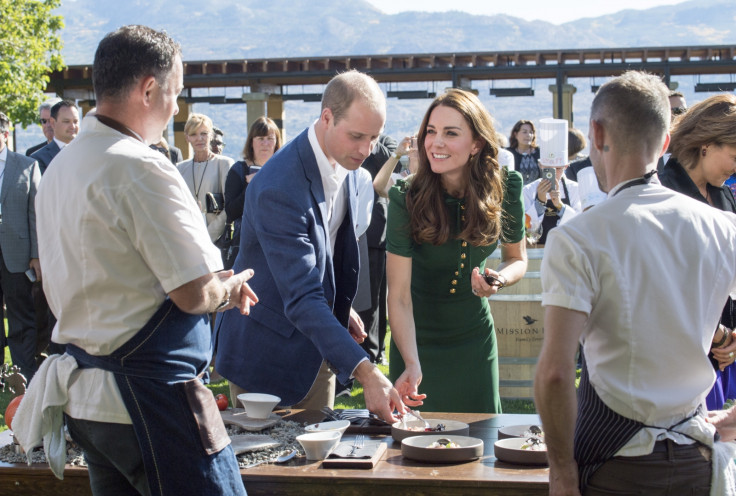 The Duke and Duchess of Cambridge kicked off the fourth day of their royal tour of Canada with a visit to the city of Kelowna. The royal couple met students at the University of British Columbia and attended the Taste of BC food festival at the Mission Hill Winery.
The royal couple were reportedly snubbed for the second time in two days by a prominent First Nations leader. Grand Chief Stewart Phillip, Okanagan Nation Alliance Chairman and Spokesperson, was set to meet the pair at the University of British Columbia Okanagan but backed out at the last minute.
The leader was set to participate at the university's 10th anniversary celebrations but was instead replaced by Chief Jonathan Kruger from the local Penticton Indian Band, MailOnline reported.
Food and wine festival
Bucking tradition, Kate Middleton tried a geoduck clam during the couple's stop at the food and wine festival, declaring it delicious. The geoduck is a giant saltwater clam with a long phallic-looking neck. "Presentationally they are quite challenging," Prince William said, according to the Mirror.
The couple enjoyed wild geoduck shashimi with a Miso mustard sauce prepared by Japanese chef Hidekazu Tojo. "There is a slightly firmer texture to this," Kate said. "It's really unusual. I've never seen it before. It's so fresh from the sea."
William and Kate enjoyed an array of dishes from celebrated Canadian chefs, including Chef Rob Feenie's Braised Cache Creek oxtail and caramelised onion ravioli with Hazelmere farms celeriac puree, port wine jus, shaved parmesan and extra virgin olive oil. According to Kensington Palace, the royal couple also took time to meet children participating in the "Chefs in the Classroom" programme.
Next stop
The couple arrived in Whitehorse, a province in the Yukon territory, late on Tuesday (27 September) and were greeted by Canadian Rangers and Junior Rangers, Kensington Palace said. They later met with Chief Bill and Chief Kane at the Kwanlin Dun Cultural Centre for a showcase of Yukon's "thriving performing arts".
According to Vanity Fair, William and Kate are reportedly staying at a $300-a-night hotel, the High Country Inn. On Wednesday, the two will visit Carcross, a very small town in the area, to watch mountain biking at Montana Mountain.