Everyone who has got an older brother has had THIS moment. #ENGvWAL pic.twitter.com/YBgewYD7SV

— Rae Earl (@RaeEarl) September 26, 2015
The Wales win against England left fans across the country divided and the royal household was no different. With Prince William rooting for Wales and Prince Harry backing England, the final result left the royal rivals firmly at odds.
Sibling rivalry superceded brotherly love for the Princes who are notoriously competitive when it comes to sport. Prince Harry's look said it all as he watched a beaming Prince William in celebratory mood when the England defeat was all but inevitable.
Despite a slow start, the Dragons stormed to victory with just minutes left on the clock, much to Prince Harry's evident dismay.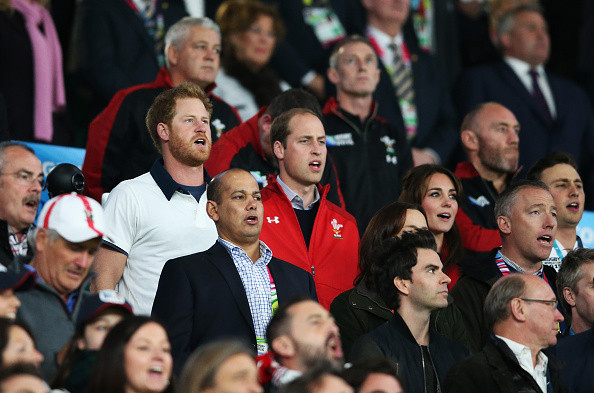 Ahead of the kick-off at Twickenham their positions were very clear, with William dressed in an official Welsh team jacket belting out the Welsh national anthem Hen Wlad Fy Nhadau, while Harry, wearing his white England shirt, joined the hosts in a rousing rendition of God Save The Queen.
The brothers, who were joined by the Duchess of Cambridge, sat side-by-side for the sold out clash and Prince William made the most of the opportunity to revel in the win as his brother looked on, distinctly unimpressed. Kate appeared to be very much in her husband's camp and was also seen beaming at the Welsh triumph.
Just days earlier, the Duke, who is vice-patron of the Welsh Rugby Union, told the Welsh players at their World Cup welcome ceremony in London that he was counting on them to win, if only to be one up on his younger brother. "Unfortunately, I will be watching you with my brother, so I will need a Wales win more than ever!"
Harry is honorary president of England 2015, the organising committee staging the tournament, and vice-patron of the Rugby Football Union, making the England defeat all the more crushing,
The match was watched by 82,000 rugby fans in the home of English rugby and many more thousands watching on TV. But it was the priceless expressions of the royal rivals that had social media commentators captivated.
"Do you sense any divided loyalties in this family?," said one keen observer. "Everyone who has got an older brother has had THIS moment," said another.
"Harry always comes second."
Knowing Prince Harry, he'll already be thinking of a way to get his own back on his big brother.