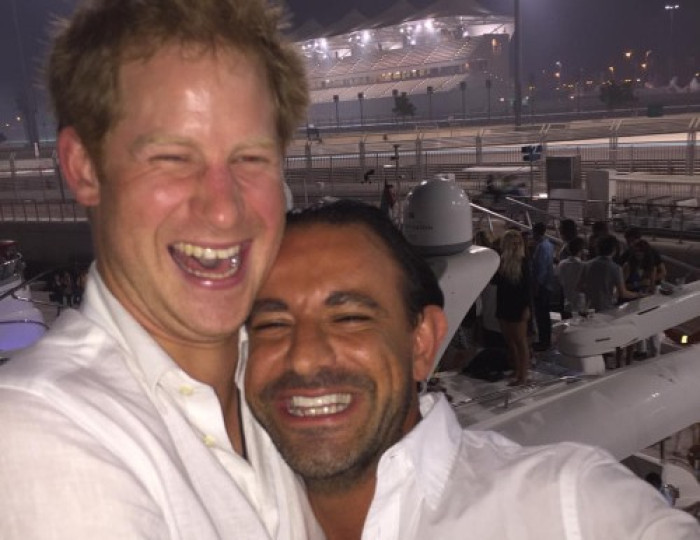 A friend of Prince Harry who has been photographed alongside the likes of Novak Djokovic, David Haye, Paris Hilton and Cuba Gooding Jr has been accused of being involved in a £70m ($106m) cocaine smuggling operation. Sources close to the investigation have even suggested the operation was arranged to provide funding for terror organisation Hezbollah.
Fidelio Cavalli spent three days with Prince Harry in November 2014 and as part of an international jet set spends time in St Tropez, California and the Middle East. His Instagram account shows him surrounded by celebrities and beautiful women, and in one photograph riding a horse through a Vegas nightclub. Yet five years ago, he was an unemployed waiter sleeping at a friend's house.
Cavalli is accused of helping arrange a huge shipment of cocaine to be flown by private jet from Venezuela in South America across the Atlantic to Benin in West Africa. According to court papers in a civil action against Cavalli in Orange County, California, he approached a private aviation company called Macair on behalf of a friend, asking for a plane. Macair did not have one large enough and helped him charter one from Hyperion Air in Malta.
According to The Times, this larger plane was diverted to Gran Canaria where Spanish customs officials were waiting. On board they found the cocaine, allegedly loaded on by armed men in Venezuela. The sacks were painted with the logo of the International Red Cross as if to disguise the cocaine shipment as aid.
In court, Cavalli denied being involved directly in any drug-smuggling operation and lodged a counter-complaint against his accuser, a former colleague called Najib Khoury. Khoury said he was not asserting Cavalli was part of a drug-smuggling operation but is suing for emotional distress after receiving two voicemail messages he claims were death threats. Cavalli admitted making the calls but denied he was threatening anyone's life. His lawyer also denied any links with Hezbollah, saying Cavalli did not support the group.
Lebanon-born Cavalli owes his recent good fortune to a friendship with billionaire's son Mohammed al-Habtoor, who hired him as a driver when he was an unemployed waiter. Habtoor is the son of Khalaf Habtoor, chairman of the Al Habtor Group which sponsors a polo tournament at Windsor each year. The Queen presents the trophy.