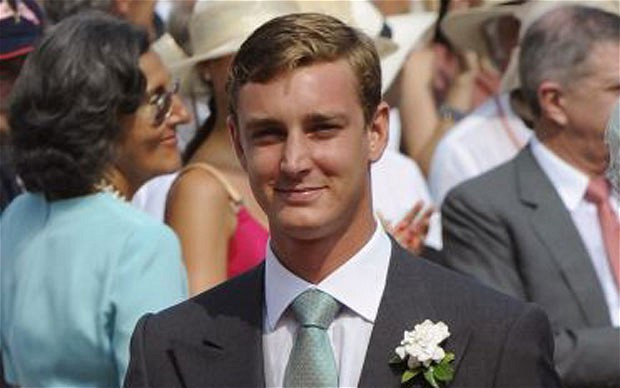 The youngest son of Princess Caroline of Monaco has been left with cuts and bruises after a Bullingdon-esque night and a row with a former nightclub owner.
Prince Pierre Casiraghi, 24, was with Stavros Niarchos III, the shipping heir and ex-boyfriend of socialite Paris Hilton, and model Jessica Hart in the trendy Double Seven bar in Manhattan when they were involved in a confrontation with former club owner Adam Hock.
Hock, 47 was arrested and appeared at Manhattan criminal court. He was bailed pending further inquiries.
Hock claims that the prince and his entourage were abusing the women they were drinking with, supermodels Natasha Poly, Valentina Zalyaeva and Anja Rubik.
He also said that the prince attempted to take a $500 (£315) bottle of vodka off his table.
One of the models told The New York Times that Prince Pierre and his friends "were being completely obnoxious".
The prince and his friends argue that it was Hock who started the fight after one said: "The prince walked up to the table and Adam just slammed him for no reason
"Stavros jumped in to help Pierre and then he got slammed in the face."
One witness said the prince fell very badly. "He flew across the room and landed on a table on the other side," he said.
"Pierre's face looked broken, with deep cuts and blood everywhere. He looked like he needed plastic surgery."
The prince was taken to hospital for treatment and was released later that night.
Hock told the judge he had been defending himself.
His lawyer, Salvatore Strazzullo, said: "My client was having a nice time with a married couple and a lady friend and a group of very beautiful women, and these individuals were jealous and they resorted to elementary school tactics.
"My client is not Bruce Lee. These four guys are trust-fund babies who think the world is owed to them. They are like spoiled brats."
Prince Pierre is third in line to the throne of Monaco after his mother, Caroline, and her brother, Albert, and is the grandson of Grace Kelly.