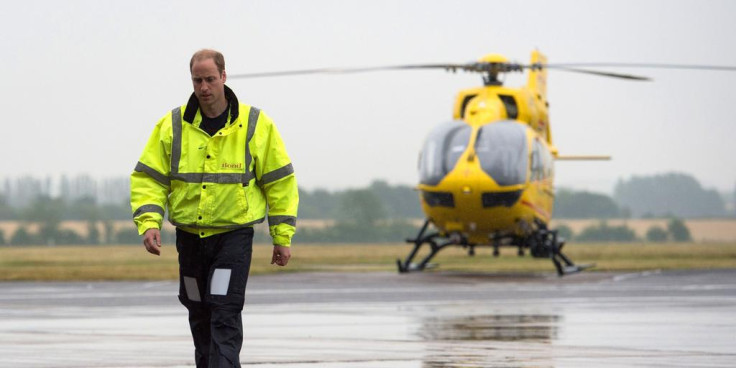 Prince William will complete his final shift as an air ambulance helicopter pilot later today. Ahead of his last day, the prince paid tribute to the team he worked with, saying he was "proud" to have served with them.
The Duke of Cambridge and second in line to the throne will move on to focus on full time Royal duties. He wrote about his time with the service in the Eastern Daily Press newspaper.
"As I arrive for work at East Anglian Air Ambulance (EAAA) this evening, my last shift with this incredible team, I wanted to say thank you to my colleagues, team mates and the people of East Anglia who I have been so proud to serve," he wrote.
William joined the EAAA in March 2015 and flew for the first time in July 2015. Over the past two years he has responded to emergency calls across Cambridgeshire, Bedfordshire, Suffolk and Norfolk.
"Over the past two years I have met people from across the region who were in the most desperate of circumstances.
"As part of the team, I have been invited into people's homes to share moments of extreme emotion, from relief that we have given someone a fighting chance, to profound grief. I have watched as incredibly skilled doctors and paramedics have saved people's lives.
"These experiences have instilled in me a profound respect for the men and women who serve in our emergency services, which I hope to continue to champion even as I leave the profession. I am hugely grateful for having had this experience.
"From the moment I joined, when that phone rang at the base for the first time, it was clear that I was a fellow professional, a pilot with a job to do – in such a team there can be no other option, but still I am grateful to my colleagues for accepting me so readily."
Chief executive of the EAAA, Patrick Peal said in a statement: "As one would expect, there has been a lot of excitement surrounding William and his work with the charity.
"To us, he has simply been another hardworking member of the team; one of 11 highly respected pilots who help us to save hundreds of lives each year.
"We can't thank William enough for his hard work and commitment to the charity during this time. He has been a true professional, delivering our doctors and critical care paramedics to patients under testing conditions. His dedication to the job, and wonderful character will be greatly missed, and I know I speak for all our staff when I say we wish him the very best of luck for the future."
You may notice the Prince updating his LinkedIn profile over the coming days.