The Princie Diamond, one of the largest and finest pink diamonds in the world, looks poised to become the most expensive gemstone ever to be sold.
The diamond is up for sale at an auction in New York for an estimated $30m (£19.6m), however one expert has said she expects it to sell for over $50m.
Christie's will sell the diamond as part of its Magnificent Jewels sale. The Princie Diamond was last sold at auction in 1960 by the London branch of Van Cleef & Arpels for £46,000.
The 34.65 carat diamond originates from the ancient mines of Golconda in South Central India. It was first recorded in the holdings of the Royal family of Hyderabad, which was one of the wealthiest provinces of the Mughal Empire.
Christie's said: "The Princie is at this time the largest Golconda-type fancy intense pink diamond ever to be graded at the Gemological Institute of America and the mystery of its extraordinary history gives it an inestimable allure, rendering it truly a priceless treasure from the Kings of Golconda."
Its name derives from the 14-year-old Prince of Baroda. The diamond was named in his honour at a Van Cleef & Arpels party in Paris, which the prince attended with his mother Maharani Sita Devi.
Sita Devi was referred to as the 'Indian Wallis Simpson' because of her lavish lifestyle and passion for jewels.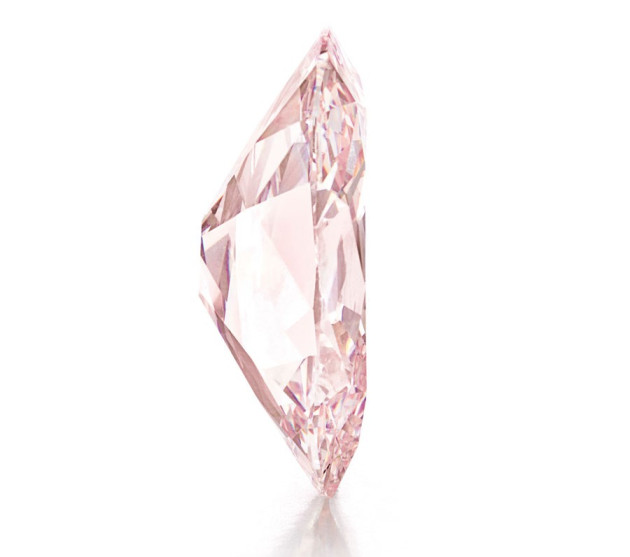 While its estimate of £19.6m ($35m) would not make it the most expensive diamond ever - the Graff pink diamond sold for £28.9m ($45m) in 2010 - jewellery expert Joana Hardy said it could sell for more than $50m.
Hardy, who appears on Antiques Roadshow, wrote on thejewelleryeditor.com: "To get an idea of its rarity, if you excavated a weight of earth the same size as the Rockefeller Centre in NYC, where the exhibition is taking place, you might find a 1.0ct pink diamond.
"There is a 23.6ct pink diamond set in the Queen's Williamson Diamond brooch - part of her private collection of jewels at Buckingham Palace - and Lawrence Graff bought a type 2a emerald-cut fancy intense pink weighing 24.78ct for US$46 million in 2010 - the most expensive single jewel ever sold at auction.
"The fabulous Princie Diamond hasn't been up for sale for more than half a century, and I would hedge a guess it will sell for above the $50 million (£32.6m) mark."
Speaking about the sale, François Curiel, chairman of Christie's Jewellery Department, said: "One of the largest and finest pink diamonds in the world, the Princie Diamond carries a fabulous provenance, which brings together the legendary names of Golconda, Nizam of Hyderabad, and the Maharani Sita Devi of Baroda.
"This rich history, combined with its rare pink hue, conveys a special charm, which will speak to all collectors in the world seeking the best of the best in gemstones."