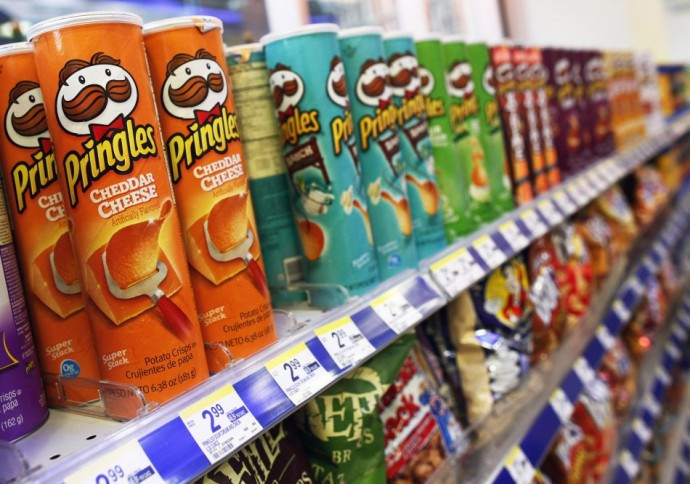 Pringles crisp tubes and Lucozade Sport bottles are the top two "villains" in the recycling industry, a trade body said.
Recycling Association chief executive Simon Ellin said manufacturers need pay more attention to how products are packaged.
The greater the number of materials used in packaging, the harder it is for recycling machines to separate them, he explained.
Pringles distinctive tube packaging comes with a metal base, a plastic cap, a metal tear-off lid, and foil-lined cardboard sleeve.
Ellin told the BBC this was: "Number one recycling villain. These things are a nightmare. Impossible to separate the parts."
Lucozade's bottle is recyclable but it is enclosed in a sleeve made from a different kind of plastic.
"Number two villain," said Ellin. "This bottle is so confusing to computer scanners that it has to be picked by hand off the recycling conveyor. Then it often just gets chucked away."
Ellin pointed to a number of other problems recycling packaged products. He said cleaning products in spray bottles were misleading when they claimed to be recyclable because of the presence of other polymers and a metal spring.
Improvements desperately needed
He added that metal in whisky packaging was also made it a problem to recycle. Ellin said: "Improvements are desperately needed in product design."
But a Pringles spokesman said: "We take our responsibilities to the planet we all share seriously and are continuously working to improve our environmental performance.
"All parts of a Pringles can act as a barrier to protect the chips from environmental contamination and to keep them fresh. The freshness of our chips means a longer shelf life, which minimises food waste."
Lucozade said it recognised its environmental responsibilities and had reduced its use of plastic in bottles by 540 tonnes over the last year.
A spokesperson for Lucozade Ribena Suntory said: "All of our bottles are recyclable and we take our responsibility to the environment very seriously. Last year we reduced the weight of the Lucozade Sport bottle by three grams, which equates to an annual saving of 540 tonnes of plastic."
Ellin's comments come as record-breaking yachtswoman Dame Ellen MacArthur prepares to join the Prince of Wales in London today (18 May) to launch a multi-million-pound competition to encourage the reduction of plastics in the world's oceans.
The pair warned that with only 14% of plastic packaging collected for recycling, there could be more plastic than fish in the ocean by 2050.
"If we want to change this, we must fundamentally rethink the way we make and use plastics," MacArthur added.