The Nigerian government and security forces should respect pro-Biafrans' right to hold peaceful protests, a rights group has claimed. Pro-Biafrans are calling for the independence of contested Biafran territories forcibly annexed to Nigeria during British colonisation.
Human Rights Watch (HRW) called on Nigeria to allow possible protests and marches on 14 October, which marks the first anniversary since the arrest of pro-Biafran leader Nnamdi Kanu.
"The supporters of Nnamdi Kanu are likely to mark the anniversary of his arrest with protests. Nigerian authorities, rather than invoking the heavy-handed tactics they have used on pro-Biafra protesters in the past, should protect their right to peaceful protest," HRW said in a statement.
Kanu, leader of the Indigenous People of Biafra (Ipob) and director of UK-based Radio Biafra, is standing trial on six counts of treasonable felony charges.
He was arrested on conspiracy and terrorism charges, which were later dropped, in Lagos in October 2015.
"Tomorrow will be Nnamdi Kanu's one year anniversary since his detention. All Biafrans are to observe a minute's silence at exactly 12pm tomorrow, in his honour," Ikechukwu Okoye, Ipob coordinator for the Anambra state, told IBTimes UK.
However, he added Kanu's supporters will not hold any march or commemoration as "we do not think that it is the right time for such".
A Biafran Republic was established in 1967 but re-annexed to Nigeria in 1970, following a bloody civil war that claimed millions of lives. Calls for a breakaway have continued since.
The Nigerian government has always maintained that Nigeria's unity was a priority for the country and, that although peaceful pro-Biafran protests were welcome, demanding the breakaway of the Biafran territories went against the constitution.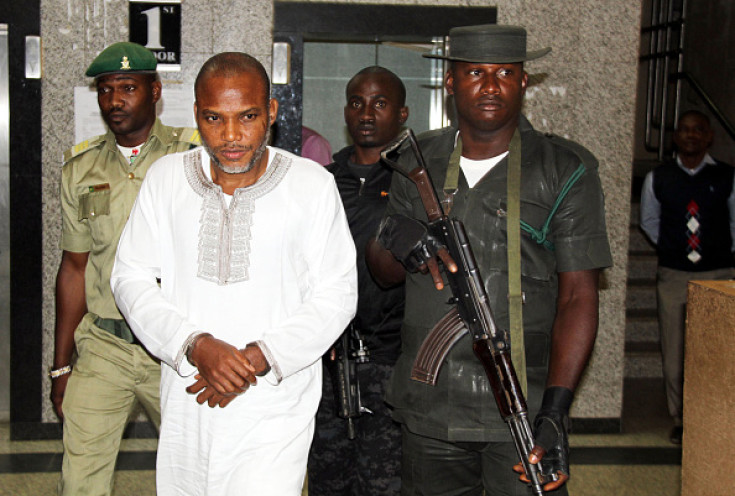 Nigerian forces' alleged violence
Both the Nigerian Army and the Nigerian embassy in London have not responsed to a request for comments.
Nigeria's security forces have often been accused of violent acts against "unarmed" and "peaceful" pro-Biafran protesters. These are claims that the authorities strongly deny.
In an exclusive report by IBTimes UK, published in February, Amnesty International confirmed that Nigerian security forces had used excessive force against pro-Biafran protesters on some occasions.
The NGO published another report in June urging the Nigerian government to conduct an independent investigation on alleged killings of pro-Biafrans on 29 and 30 May 2016.
Kanu's arrest and trials
The Abuja High Court initially ruled in favour of granting bail to Kanu, who denied all the charges against him. However, in December 2015, President Muhammadu Buhari said the Ipob leader would not be released amid fears he could jump bail and flee to the UK, as he holds both a British and a Nigerian passport.
In response, Kanu and his legal representatives sued the federal government arguing that his continued detention was a violation of his human rights. Kanu asked for $800m (£646m) in compensation.
Kanu's trial on treasonable felony charges suffered another setback after Judge John Tsoho stepped down in September. He was the second judge to have withdrawn from the case since December 2015.
Kanu's defence has not been able to proceed with the case due to several obstacles – that Kanu's supporters have deemed as tactical, in order to keep their leader in detention for an indefinite time. Both Tsoho and the federal governement have denied the allegations.
It is unclear how long the process to appoint a new judge will take. However, some lawyers have pointed out that judges are reluctant to take cases that colleagues have withdrawn from "because it would appear as if the judges are passing the buck."