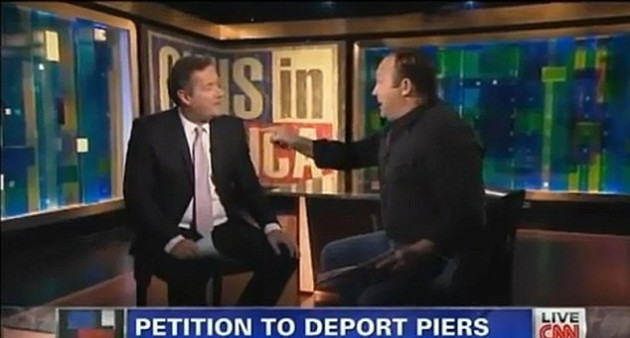 CNN's Piers Morgan has been branded a 'foreigner and a redcoat' by Alex Jones, the man leading attempts to have him deported from the US, after a TV interview on gun control in America became heated.
The explosive showdown took place after Jones appeared on the prime time programme to discuss the reasons why Morgan's tough stance on US gun control laws compelled him to launch a petition to deport the former Daily Mirror editor.
In the 15-minute video, currently doing the rounds online, radio talk show host and prominent conspiracy theorist Jones is seen launching into a series of lengthy on-air rants and calling Morgan a "hatchet man of the new world order".
After a briefly civil start, an angry Jones warns Morgan that it would cause another revolution if firearms are taken away, and even challenges him to a physical bout in a boxing ring.
"Let me say, 1776 [the year America's Declaration of Independence was signed] will commence again if you try to take out firearms. No matter how many lemmings you get out there on the street begging for them to be taken, we will not relinquish them," Jones said.
"The Second Amendment isn't there for duck hunting. It's there to protect us from tyrannical government and street thugs."
Despite Morgan's best attempts to interject and get his questions answered, the CNN anchor was repeatedly drowned out by Jones, who was intent on screaming at the top of his lungs to be heard.
At on point during their heated exchange, Jones baited Morgan about a hacking scandal at the Daily Mirror.
He told the host: "Why did you get fired from the Daily Mirror for putting out fake stories? You're a hatchet man of the new world order. ... You think you're a tough guy? Have me back with a boxing ring and I'll wear red, white, and blue, and you'll wear your Jolly Roger."
Morgan has become a target for the National Rifle Association (NRA) by calling for a ban on high-powered assault rifles and large ammunition magazines.
A petition to the White House, under its We the People program, to deport Morgan back to Britain already has more than 105,000 votes - more than four times the number required to receive an official White House response.
Watch the Interview here: