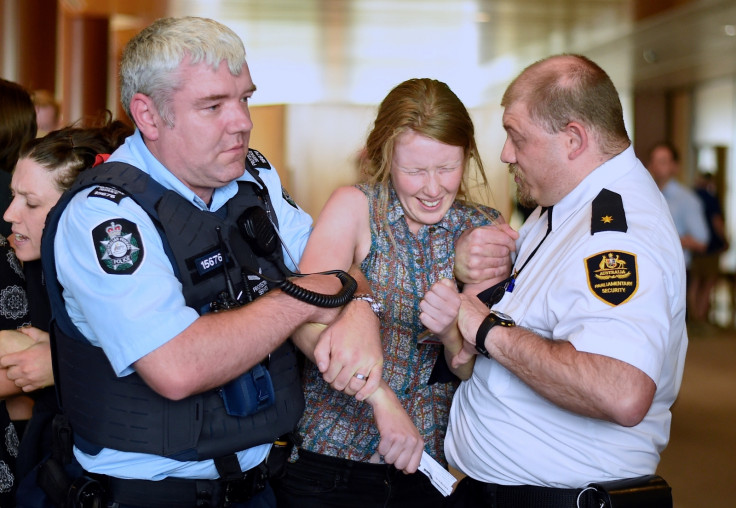 At least 30 protesters demonstrated outside Australia's parliament on Wednesday (30 November) against the detention of refugees on remote camps located in Papua New Guinea's Manus island and Nauru. They clashed with security guards, suspending question time in the House of Representatives for 40 minutes.
The demonstrators, claiming to be from the Whistleblowers, Activists and Citizens Alliance, shouted "close the camps" and "bring them here", while accusing both major Australian political parties — the Coalition and Labor — of being world leaders in cruelty.
"We are here today because you have become world leaders in cruelty," one protester shouted, according to local media. Some protesters reached the parliamentary public gallery and called on Prime Minister Malcolm Turnbull to leave the chamber and suspend parliament.
However, many of them were dragged out from the chamber by guards.
A spokesman for the group said they were here to tell government to "stop the madness" and close detention centres on Nauru and Manus islands.
Under Australia's current policy, no person who arrives in the country by boat seeking asylum can ever settle in Australia. Instead, anyone who arrives by boat is forcibly taken by the government of Australia to offshore "refugee processing centres" on Manus Island in Papua New Guinea or the remote Pacific island of Nauru.
Even when refugees are determined to be genuine ones, a process which can take years, they are still barred from resettling in the country.
Talking about Wednesday's protest, Cabinet Minister Christopher Pyne said it was the most serious one after the 1996 interruption, and apologised to the public for the commotion.
"As the person responsible for the chamber and the House I would suggest you conduct a thorough investigation. If people are signed in from the public area and in many cases to the chamber, they are signed in by a member of Parliament.
"There may well be trail of where the miscreants who disrupted the Parliament came from and I think it would be important to determine that," Pyne said.
On the other hand, Greens leader Richard Di Natale thanked one protester and told her "we are so proud of what you have done".