The father of one of the members of the USA Freedom Kids musical act says he plans to file a lawsuit against Donald Trump's campaign for "violating its agreement with the group", according to reports on Tuesday (26 July).
The musical group comprised of patriotic young girls became a viral sensation after performing at a Florida rally earlier in the year. However, Jeff Popick - who manages the Florida-based group - admitted to The Washington Post that the Trump campaign had made a verbal agreement with him and no written, formal contract.
Popick reportedly spoke to various campaign officials and agreed the girls would be paid $2,500 for their performance. The campaign also offered to set up a table at the rally so the group could sell its albums. No such table was ever set up.
"I'm doing this because I think they have to do the right thing," Popick told The Post. "And if this means having to go through the court system to enforce them doing the right thing, then that's what I have to do. I'm not looking to do battle with the Trump campaign, but I have to show my girls that this is the right thing."
According to The Hill, the girl group was also invited to perform at the Republican nominee's impromptu veterans event in January 2016 although, after reportedly travelled all the way to Iowa, were never given a chance to perform. "We got to Des Moines and their plan quote-unquote changed and we were told to just sit in the audience," he told TIME.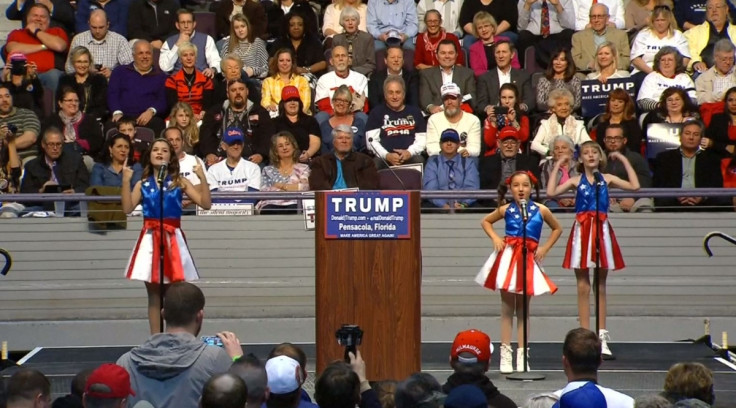 He added: "We are owed compensation or, as the agreement is, a performance. That's what the agreement was. In lieu of compensation, in lieu of monetary compensation, that we would have this performance. It was largely a verbal contract, but a contract nonetheless and on two different occasions."
The manager also told TIME that after his experience with Trump's campaign, he was unsure whether he still believes in the lyrics he created for the Florida rally. "I'm very saddened by it," he said. "I'm not really sure what to think. The fact that what he's done to my group, or lack thereof, doesn't necessarily mean he wouldn't be the right guy for president. I don't know. Maybe I'm not the right person to make political commentary."
Popick said he requested a chance for Freedom Kids to perform at the Republican National Convention earlier in July but that request also did not materialise. "I've asked and asked them for many months to make it right, and they haven't, and if that means going the legal route, then so be it," Popick said.
Popick expects to file the lawsuit within the next few weeks.