Michelle Obama made a powerful statement with her blue Christian Siriano dress
The FLOTUS wore a simple blue dress at the DNC that made a true political statement.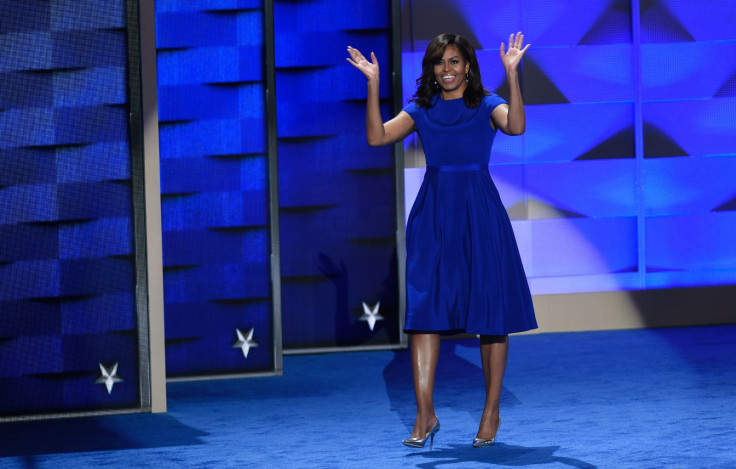 Michelle Obama walked onto the stage at the 2016 Democratic National Convention (DNC) and delivered a speech to the crowd that not reaffirmed why she has remained in favour throughout her husband's time in office, but reminded every Democrat in the building that a female in power is no longer an idea, but a reality.
Obama said: "Because of Hillary Clinton, my daughters, and all our sons and daughters, now take for granted that a woman can be president of the United States." Her words may have been enough to speak volumes but the simple capped sleeve flared dress in Democratic blue spoke louder than the rest. Naturally in Democratic blue, she hardly stood out from the stage as it lit up in the same signature hue of the party, but it was the choice of designer that made the statement, and that designer was Christian Siriano.
Since winning the fourth series of US reality TV show Project Runway in 2007, the 30-year-old New York based designer has quietly been making big fashion statements for a while now. Not through elaborate fashion shows or crazed conceptual designs but in doing what the most successful American designers do best and creating clothes for real women.
Now whilst Michelle might not fall into the category of the everyday woman, she is not a sample size glamazon that no one could aspire to. Like Samanatha Cameron and Theresa May, she is also supporting brand's from the US and using them to amplify her message to the word.
Siriano's simple, flattering and confident designs have made a big statement to be inclusive of all women, regardless of size or shape.
The most recent example of this is the media frenzy that surrounded Ghostbuster star Leslie Jones when she called out the fashion industry for the lack of designers able to provide a dress for a woman on the red carpet who wasn't sample size.
In stepped Siriano with an incredible siren red gown complete with thigh high split that made Leslie Jones the star of the carpet and immediately made a whole nation of women recognise a designer that can provide for them if they aren't a size zero.
Obama also chose to wear one of his designs to attend the funeral for the police officers killed in Dallas earlier this month, but it was only this month that the first lady started to wear Siriano. Whilst it is constantly noted that the fashion of women in politics should not be studied, for Obama to select such a designer who focuses so intently on inclusiveness and celebrating women to dress her during her pinnacle final moments in The White House supporting Hillary Clinton she lets the clothing speak for itself.

© Copyright IBTimes 2023. All rights reserved.