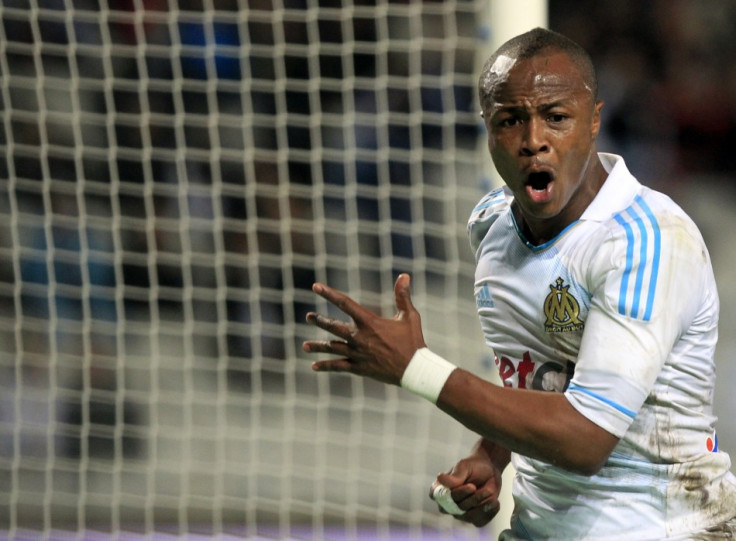 Marseille star André Ayew has distanced himself from a possible move to the Premier League despite rumoured interest from Arsenal and Manchester United.
The two Premier League clubs have long been credited as admirers of the wonderfully gifted Ghanaian international, but despite passing comment on the seemingly welcome interest from Arsenal and Manchester United in the past, the 21-year-old has invited Marseille to offer him an extended deal at the club.
Recent speculation has intimated both Ayew's high-profile English admirers were considering exercising a release clause in the youngster's contract which remains at just £9.5 million. The Daily Mail last month intimated Arsene Wenger and Sir Alex Ferguson were monitoring one of French football's brightest young talents, but Ayew, who made his Marseille debut aged just 17, admitted recently he would be willing to commit his future beyond 2014.
Ayew told France Football: "No, I never thought about leaving. I want to stay at L'OM. A departure is not part of my career path yet.
"There were rumours (in regards to alleged interest from Arsenal and Manchester United), but I didn't comment.
"There is a right time for everything. I am fine at Marseille. But indeed it is true foreign clubs were keen to act.
"If the club wants to extend my contract and erase that clause, we will find a good moment to talk.
"It is up to the club. If the officials want to start to negotiate, it is up to them."
Whilst Ayew was eager to stress his happiness in France and distance himself from a move to Arsenal and Manchester United, that has not always been the case following various reports associating him with potential suitors.
In October the player was quoted in L'Equipe expressing his admiration for Arsenal amid reports Arsene Wenger had had the player monitored ahead of a possible January move.
"I'm in Marseille, it is already big for me," Ayew told the aforementioned French publication. "But there is everything (at Arsenal). The stadium, the players, the training ground, the budget and the image of the club that makes a lot of players dream."
Likewise in March, various sources indicated Barcelona and Manchester United were tracking Ayew following a string of impressive performances in last season's Champions League.
"It is fantastic to hear these stories, even if it's just through newspapers," he told Sky Sports. "I am delighted to be linked with two powerhouses of world football (Manchester United and Barcelona). It means I have improved."
"I have not got a favourite, I am just speechless!
"It would be a dream to join one of them, but I am living the dream here with Marseille as well and also looking forward to a strong finish to the season,"
In addition to Arsenal, who reportedly endeavoured to sign the player in 2008, and Manchester United, their rivals Liverpool and Tottenham Hotspur have also been perennially associated with Ayew and his obvious pedigree.
The youngster has been involved with the senior Ghanaian national side since August 2007, but was also heavily scouted by the likes of Arsenal and Manchester United during Ghana's 2009 Under-20 World Cup win. He was the captain and the focal point of Ghana's win in the FIFA youth tournament and subsequently played in the main tournament in South Africa a year later. He has already amassed 32 caps for the senior side.