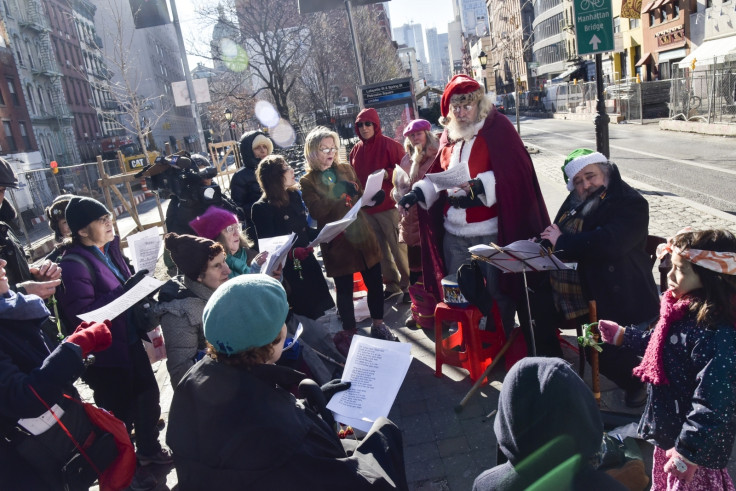 A Canadian professor who published a paper on the origins of the Christmas tune Jingle Bells has spoken of the right-wing harassment she received in the wake of it.
Kyna Hamill, a lecturer at Boston University, researched the history of the popular carol in order to settle an argument between the towns of Medford, Massachusetts, and Savannah, Georgia, as to where it was originally written.
During her research, she found the song was originally performed by artists in blackface in Boston in 1857 under the title One Horse Open Sleigh. She added the song continued to be performed as a black and white minstrel act until the 1930s.
In her paper, published in September, Hamill used Jingle Bells as an example of music where "blackface and racist origins have been subtly and systematically removed from its history".
Speaking to the Boston Herald, she added: "I never said it was racist now. Nowhere did I say that. My point was that because it is now included in the Christmas catalogue of songs — attention is only given to it during the Christmas season — it has eluded rigorous study."
Hamill has said that ever since her paper was "misreported or reported very irresponsibly" in several news sites around the world, she has been the victim of backlash and trolling.
She said her email inbox has since been flooded with angry people claiming she was trying to "ruin Christmas" by calling Jingle Bells racist, with her name also been mentioned on Fox News and a #KynaHamill hashtag appearing on Twitter.
Right-wing US publication Breitbart even went so far as to say Hamill wanted to cancel Medford to cancel its annual Jingle Bell Festival in the wake of her findings.
"There were many incorrect details in the Breitbart article, which seemed to be timed perfectly to rile people up at this time of year," Hamill said.
Speaking to The Guardian, she added: "It was obviously an easy way to bait and politicise Christmas, which seems to be what extreme political outlets want to do.
"I was doing what an academic does. I was trying to do the best research that I could and write it up. I did not have an agenda for Christmas, that's for sure."