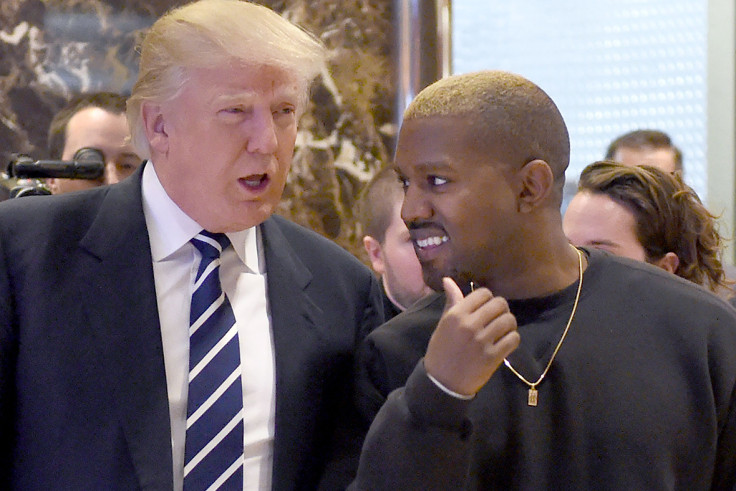 Kanye West paying Donald Trump a visit may have confused many but British rapper Professor Green understands the intentions of his fellow musician.
West, 39, raised eyebrows on 13 December when he was seen entering Trump Tower for a scheduled meeting with the president-elect. The All Of The Lights hitmaker later revealed on Twitter that he and Trump, 70, discussed "multicultural issues", adding that it is "important to have a direct line of communication" with Barack Obama's successor to invoke "change".
Although some fans may not agree with West's new allegiance with the Republican president-elect, Professor Green believes politics has an important place in rap music. Speaking at his intimate Q&A session for Build Series LDN, the Read All About It rapper said: "I think you can be political without being politicised. It's easy to slander the music because of the subjects that it touches on.
"It's a really easy way to just denounce music by saying that it glamorises certain things but actually the things that it talks about occur before it's spoken about. A lot of people would rather not hear about it but [rap] plays a part in politics in the sense that it's spreading the message about what's going on. It's important that people get things out by stories, I don't like preachy music. I wouldn't like to listen to someone who is only political, things have more impact when it's a story. I hate having people tell me what to think."
According to West, some of the topics he discussed with Trump included violence in his home town of Chicago, modernising school curriculums, supporting teachers and bullying. The Grammy-winning rapper then suggested that he still plans on running for the US presidency in 2024 once Trump's potential second term ends.
Professor Green, real name Stephen Manderson, is making a musical comeback after a two-year break which he spent working with mental health charities and filming a string of documentaries with the BBC on suicide and depression. The 33-year-old's brand new single One Eye On The Door sees a return to the rapper's playful side, something which Pro Green admits was missing in his most recent tracks like Read All About It and Lullaby.
Revealing how it feels to finally return to music, Professor Green said: "It feels really good. It was a quick two years, a lot happened. I filmed my first documentary with BBC Three and then went on to do a further two. I wrote my own book and I actually did write it...
"Coming back to music and having such a warm reception is wicked – you should never really have expectations because you never really know what you're going to get when you put a song out. Obviously you want them to do well but I just put a song out and let it go. I'm in a really good place, the music that I'm making is still quite provocative but it's cheeky and funny. There was a lot of seriousness around me with the documentary on suicide."
Watch Professor Green's One Eye On The Door music video: