Prominent lawyer and women's rights activist Azza Soliman was taken from her home and arrested by Egyptian police on 7 December. Her arrest comes amid a security clampdown on human rights activists and journalists in the country.
Accused of receiving foreign funding, the arrest came after she was banned from travelling and her personal and organisational bank accounts were frozen in November, without a court hearing.
"We are in a state that tramples on the law and constitution. They are acting like thieves in the night," she told Reuters in the beginning of December. "I wasn't shown a single official paper saying I've been banned from travel or that my assets were frozen."
Soliman founded the Center for Egyptian Women's Legal Assistance (CEWLA), a non-governmental organisation that provides free legal aid to women and works towards promoting gender equality, in 1995. The organisation announced Soliman's arrest through its social media channels, noting that the judge set her bail at EGP20,000 (£850), around 10 times Egypt's average monthly wage.
A divorced mother-of-two, the lawyer is sadly familiar with harassment from the Egyptian authorities. She was one of 17 witnesses who were arrested after giving evidence about the murder of activist Shaimaa al-Sabbagh, who was shot dead during a peaceful march on 24 January 2015. Soliman was accused of protesting illegally, but she was acquitted of the charges in May 2015 and upon appeal in October 2015.
Amnesty International condemned her arrest as "the latest chilling example of the Egyptian authorities' systematic persecution of independent human rights defenders" and urged Egypt to put an end to the crackdown on human rights activists.
Egyptian courts have been accused of issuing travel bans and asset freezes of human rights workers to silence dissent. "Restrictions imposed on... freedom of movement have regrettably become routine in what is seen as a broader crackdown against Egyptian civil society that has continued unabated since 2011," said the United Nations Special Rapporteur on human rights defenders Michel Forst in a statement, reported by Reuters.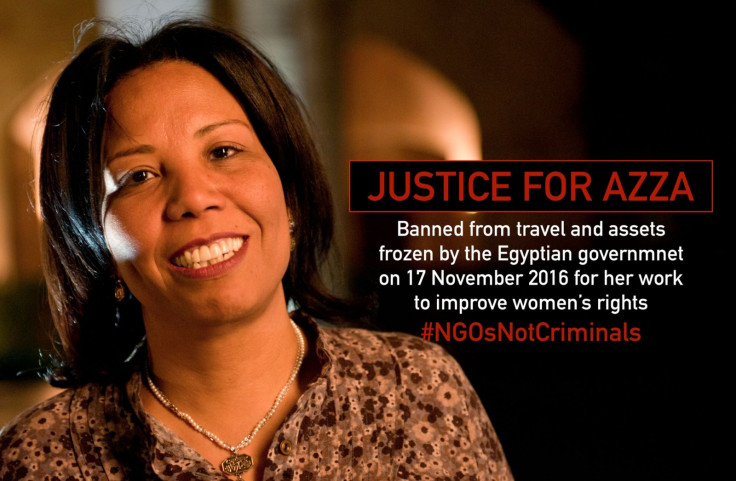 The foreign funding law, also known as case 173, has been used in previous occasions to shut down international NGOs operating in the country, including Freedom House and the International Centre for Journalists. It also saw the jailing of 43 foreign and Egyptian NGO workers in 2013, who received sentences between one and five years' imprisonment.
The clampdown on civil society has worsened in the past year, with judges increasing pressure on human rights groups. "It is a process of reprisal against human rights defenders because of the role they played since 2013 since the military coup," explained Moataz El Fegiery, protection coordinator for the Middle East and North Africa at Front Line Defenders.
"They were very vocal about the regime and outspoken about human rights abuses committed. The regime realises that this sector is threat to its image internationally and domestically and they want to contain the human rights movement, paralising the organisation and scaring the people who are working int his field," he told IBTimes UK.
The Egyptian parliament has approved a draconian law restricting NGO work, requiring organisations to receive permission to conduct fieldwork or polls and to cooperate "in any way with any international body", introducing jail terms of up to five years for non compliance.
The bill, which only needs President Abdel Fattah al-Sisi to become official law, also stipulates that foreign NGOs should be overseen by a regulating agency including representatives of the military, general intelligence and the Interior Ministry.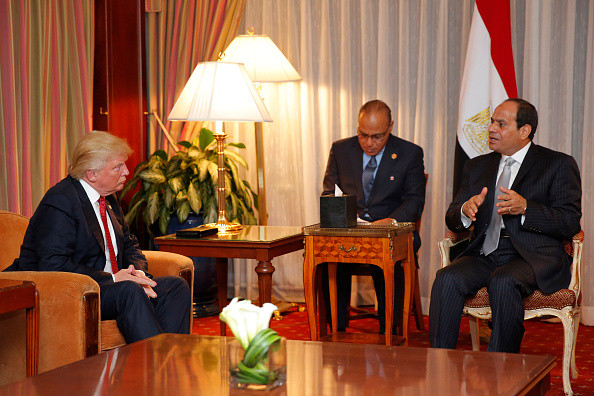 Activists warned this would give al-Sisi, a former director of military intelligence, the government and the security apparatus extraordinary power over NGOs, threatening the very existence of the country's independent civil society.
According to El Fegiery, the international community could still exercise pressure on the Egyptian government to stop the crackdown and release the activists imprisoned. Yet, he noted, they continue to support Egypt, despite high-profile international cases such as the murder and torture of Cambridge University student Giulio Regeni from Italy, the three-year long detention without trial of Irish national Ibrahim Halawa and American citizen Aya Hijazi.
"No one cares about the human rights movement in Egypt, what is happening there is unprecedented and we have not seen so far any serious action from leading Western leaders," said El Fegiery. "It is a real crisis right now when it comes to leadership of Western governments on human rights issues and this empowers authorities like Egypt and other countries to intensify the crackdown on civil society."