On International Day Against Child Labour, demonstrations took place in Paris, Madrid, Barcelona, Prague and Brussels over the weekend (11-12 June) outside regional offices of phone giant Apple. Major electronics brands, including Apple, Samsung and Sony, are failing to do basic checks to ensure that cobalt, mined by child labourers, has not been used in their products, according to human rights charities.
Lauren Armistead, Amnesty International's human rights campaigner, was coordinating the protests from London. "We are asking Apple to investigate and disclose, to tell consumers where the cobalt comes from and the steps they are taking. We are asking Apple stores if they can tell us the story behind their products. I have an iPhone and I want to know that a child hasn't mined the cobalt that has gone into making it."
She added: "We have had no public response from Apple."
Child miners in the Democratic Republic of Congo (DRC) - some reportedly as young as seven - are working in hazardous conditions and without protective clothing or equipment. A study published by Amnesty International and Afrewatch traces the sale of cobalt - used in lithium-ion batteries - from mines where children and adults work in dangerous conditions. Cobalt is a key component in the rechargeable batteries that power portable electronic devices, such as smartphones, PDAs and laptops.
The report - titled This is What We Die For: Human Rights Abuses in The Democratic Republic of The Congo - states that half of the world's cobalt comes from DRC. It's estimated that around 40,000 children in the southern part of the country are employed as child miners.
Many children frequently fall ill, as inhaling cobalt dust can cause hard metal lung disease, a potentially fatal condition. They often work up to 12 hours a day, carrying loads of 20-40kg for just $1 per day. A 14-year-old - called Paul, who started mining at the age of 12 - told Amnesty International that he would often "spend 24 hours down in the tunnels. I arrived in the morning and would leave the following morning."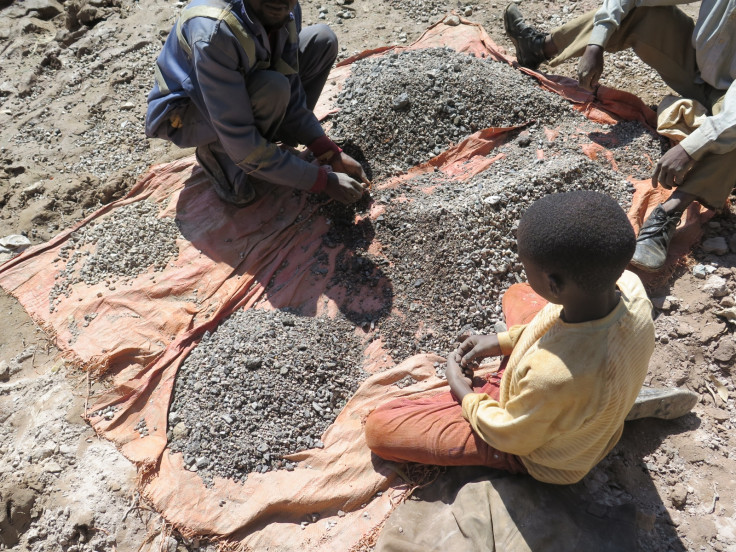 Mark Dummett, Business & Human Rights Researcher at Amnesty International, said: "Millions of people enjoy the benefits of new technologies, but rarely ask how they are made. It is high time the big brands took some responsibility for the mining of the raw materials that make their lucrative products."
The protests coincided with the International Day Against Child Labour on Sunday (12 June). The theme for this year's United Nations observance is "End child labour in supply chains - It's everyone's business."
More than 168 million children are reportedly still in child labour, according to figures released by the UN. "This year, the focus for World Day Against Child Labour is on child labour and supply chains. With 168 million children still in child labour, all supply chains - from agriculture to manufacturing, services to construction - run the risk that child labour may be present."