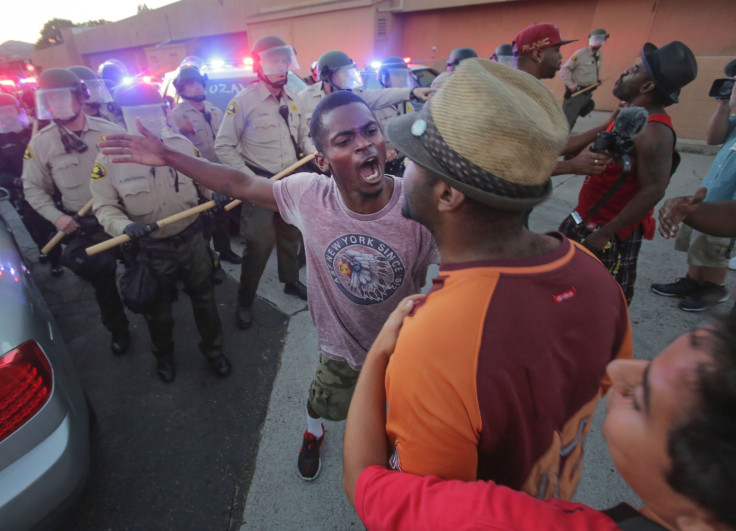 Protesters have accused police in Southern California of killing an unarmed Ugandan refugee, who was tasered and shot by officers on 27 September.
Alfred Olango, 38, a Ugandan native, died after he was confronted by two police officers who responded to several calls about a mentally unstable person walking in traffic and behaving erratically in the San Diego suburb of El Cajon.
One officer used a taser against the refugee, while his partner simultaneously discharged his service pistol several times when the man pulled an object from his pocket and took aim at them in a "shooting stance," according to El Cajon police chief Jeff Davis.
On Wednesday 28 September, police said in a statement: "The object that Mr Olango drew from his pant pocket and pointed at the officer is a vape smoking device". No weapon was recovered at the scene.
Surviving the horrors of refugee camps
Details have emerged about Olango, who had survived the horrors of both refugee camps and prison, before he was shot.
A friend of the family told NBC San Diego Olango, who was born in Kampala, Uganda, was part of the Acholi tribe from Northern Uganda.
One of nine children, Olango was about 12 when he became a refugee, as his family fled political persecution in his native Uganda, ruled by Idi Amin, whose brutality gave him the nickname the "Butcher of Uganda". According to Steven Oloya, who was in a refugee camp with Olango in the 1990s, Olango's father worked for the former Ugandan president.
"We saw dead bodies, atrocities, and it built character," one of Olango's brothers told the Rev Shane Harris, a San Diego pastor who spoke the sibling on his online National Radio show "Get on Up" on 28 September.
Olango carried with him memories of his time in the refugee camps: his feet were scarred from years of walking across rugged terrain without shoes. "It made us want something better and acquire the American dream together."
This account is confirmed by state records which show that Olango and his family came to New York as refugees in 1991 in search of protection from the regime seeking to kill the entire family.
Life spun out of control
Later on, the family moved to San Diego, where he obtained a General Educational Development diploma after dropping out of San Diego High School.
The victim's juvenile record, which include several misdemeanour charges, indicate Olango spun out of control around that period. In 1999, he was convicted of receiving stolen property but avoided jail. In 2001, he was sentenced to just over a year in prison for selling cocaine.
The young man eventually moved to the Denver area, Colorado, where he continued to come in conflict with the law. He was sent to federal prison for driving drunk and illegally possessing a 9mm semi-automatic pistol when arrested in Aurora, Colorado in 2005 with marijuana and ecstasy in his car.
He was released four years later and moved to La Mesa, California, where he spent the next three years on probation.
A 'happy' man
After racking up a few traffic tickets, his relatives said Olango had become a chef for a series of Hooters restaurants, and had settled down. "He was just so happy," Vicky Ellis, Olango's former girlfriend, who spoke with him last weekend, is quoted as saying "They called him 'Little Kevin Hart' because he was always making people laugh."
However, the well-adjusted father of two little girls, who had forged a new law-abiding life, became distraught over the recent death of his best friend and fellow African refugee, 31-year-old Bereket Demsse, who died suddenly.
"He was just so depressed," Ellis, who dated the victim for five months, said. She said Olango was suffering from an emotional breakdown. "I'd never heard him so upset," Ellis added. "He was not mentally disabled. But one of his best friends had just died and he was going through a lot of pain with that." According to local reports, Demsse was buried on 28 September afternoon – less than 24 hours after Olango's death.
Justice for Alfred Olango
Protesters, who carried out the "Justice for Alfred Olango" rally in front of the El Cajon police station on 28 September, called for a federal investigation into the fatal police shooting they described as "murder".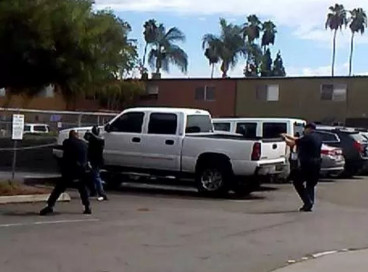 A Facebook Live video clip, taken moments after the shooting outside a Mexican restaurant and shared on social media, allegedly shows a distraught woman who identified herself as Olango's sister.
Describing how she had called police to the scene to get help for her brother who was not acting like himself, the grief-stricken sister identified as Lucy Peterson, is heard crying: "Oh my God. You killed my brother. I just called for help and ... you killed him."
Mayor Bill Wells told reporters he had seen another footage obtained by police – a screen grab from a cellphone video that was shot at the scene showing two officers pointing guns at a man who was aiming an object at them.
Speaking to the Rev Harris, Olango's brother cautioned against mistaking the footage snapshot for the complete picture.
Referring to the footage, Wells said it as "certainly enlightening". "I don't believe that this is going to be a tremendously complicated process for people to figure out what happened," the mayor said.
"I saw a man who was distraught, and a man acting like he was in great pain (...) And I saw him get gunned down and killed. If he was my son, I would be devastated."
Police chief Davis said an inquiry was underway and that the officers, each with more than 20 years of service, had been placed on administrative leave pending the investigation. "This will be transparent. This will be looked at by multiple sets of eyes, and not just ours," Davis told press.