The atmosphere is heating up as 15 million Ugandans prepare to head into a general election on 18 February, in which President Yoweri Museveni will be standing for his fifth term in office, amid a heavily divisive political landscape. To understand the issues at stake in the upcoming polls, IBTimes UK looks back at the major events shaping Uganda, the East African nation that has arguably had the most turbulent political history since it attained independence in 1962.
The country has never had a peaceful transfer of power, despite having held more than 15 general elections since it attained independence.
INDEPENDENT UGANDA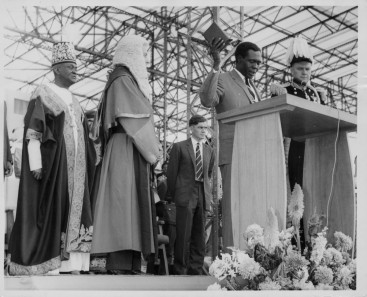 1890 – Britain and Germany sign a treaty giving Britain rights to what was to become Uganda. Four years later, Uganda becomes a British protectorate.
1958 – Uganda becomes a self-governing state, before elections are held in 1961. A leader of the Democratic Party, Benedicto Kiwanuka, is elected as the first prime minister of Uganda.
1962 – Uganda becomes independent with Apollo Milton Obote as prime minister. Buganda, a sub-national kingdom within Uganda populated by the single largest ethnic group in the country, enjoys a large degree of autonomy.
1963 – Buganda's King Mutesa II becomes president of the new republic of Uganda.
A NEW CONSTITUTION
1966 – Milton Obote mounts a coup and revises the constitution to make himself executive president, while ending Buganda's autonomy.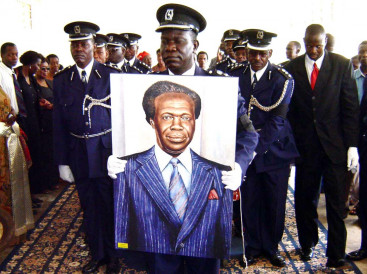 1967 – The 1966 Constitution, approved in a tense political environment and without debate, is replaced. It bestows considerable power in the president.
IDI AMIN YEARS
1971 – General Idi Amin, chief of the armed forces, seizes power while Obote is away on a foreign visit, and his troops seal off Entebbe Airport.
1976 – Idi Amin declares himself president for life and claims parts of Kenya.
1978 – Uganda invades Tanzania with a view to annexing Kagera region.
1979 – Amin flees Uganda after he is toppled by Ugandan rebels and Tanzanian troops – and is replaced by Yusufu Lule as president. General Amin – nicknamed The Butcher – spends his last years in exile in Saudi Arabia where he dies in August 2003.
UGANDA'S BUSH WAR
1979 – Godfrey Binaisa, a lawyer, becomes president in June, but is toppled by the army in 1980.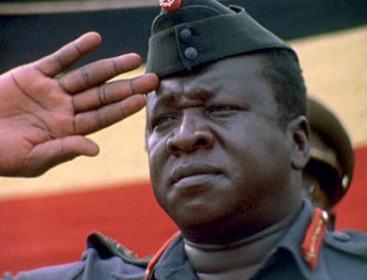 1980 – Obote returns to become president again after general elections. Seen as a return to democratic rule – Obote establishes a multi-party democracy – the disputed polls actually lead to the country's most devastating civil "bush" war fought by the National Resistance Movement (NRM)'s military wing the National Resistance Army (NRA). Up to half a million people are estimated to have died.
1985 – Obote is deposed in a second military coup launched by the army that remained unwilling to submit to his control, and a military officer, Tito Okello, who was among the commanders who organised the Ugandan exiles into a force that overthrew Amin in 1979, replaced him as president until 1986.
MUSEVENI PRESIDENT
1986 – NRA rebels descend on the capital Kampala and install Yoweri Museveni as president under the NRM banner – five years after he took rebels into the bush in a quest to overthrow Obote's government.
1993 – Traditional kings, including the king of Buganda, are reinstalled. They are not given any political power, however.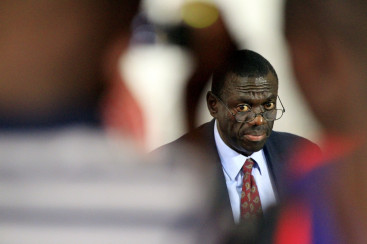 1995 – A new constitution, the fourth since Uganda's independence in 1962, is adopted. It establishes major political institutions. The constitution allows political parties to exist but not to engage in any political activity, such as rallies.
1996 – In the first direct "no-party" presidential election, Museveni defeats Paul Ssemogerere and Mohamed Mayanja by a landslide, receiving about 75% of the vote.
2000 – Presented with a choice between retaining Museveni's "no-party" system of government and returning to multi-party rule, in a referendum, Ugandans vote to reject multi-party politics.
2001 – Museveni wins the presidential elections by a substantial majority (79%). The elections are remembered for the emergence of his rival Kizza Besigye, of the Forum For Democratic Change party, who at the time receives 28% of votes.
2005 – The government proposes substantial changes to the constitution, including scrapping the limit of two presidential terms. A constitutional referendum cancels the 19-year ban on multi-party politics in July.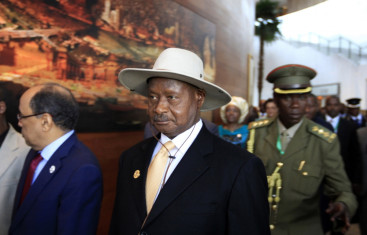 2006 – Museveni wins new multi-party elections but sees his popularity diminish as he receives 59% of votes. Rival Besigye, meanwhile, obtains a 37% share.
2010 – Museveni disassociates himself from the controversial Anti-Homosexuality Bill, which he claims was put forward by a member of the ruling party. The draconian bill, condemned by both the European Union and US, causes a storm of protest abroad. The text includes the death penalty for HIV-positive people convicted of having gay sex, and threatens life imprisonment for anyone convicted of gay sex.
2011 – Museveni wins his fourth presidential election, with 68.38% of votes. Besigye, who received 26% of ballots, claims ballot stuffing and intimidation, and calls for peaceful protests against the outcome of the general election.
2011 – Besigye is arrested four times during opposition protests at the rising cost of living, and was put under house arrest in May – later describing his detention to BBC as a sign that Uganda had "regressed back to the dark days of previous atrocious dictatorships".
2012 – The United Nations accuses Rwanda and Uganda of backing the Mouvement du 23 mars (M23) insurgency in eastern DR Congo – charges both countries deny. In November 2012, the Security Council states: "Senior officials of the government of Uganda have also provided support to M23 in the form of direct troop reinforcements in Congolese territory, weapons deliveries, technical assistance, joint planning, political advice and facilitation of external relations."
2012 – A scandal erupts after it is revealed that millions of dollars of public money has gone missing from prime minister John Patrick Amama Mbabazi's office – leading several donor countries to cut aid to Uganda. Mbabazi denies any involvement.
2013 – Government temporarily closes two privately owned newspapers and a radio station after they published and aired a letter alleging that Museveni was grooming his son to succeed him. The correspondence, purported to be from an army general, stated those who opposed the move risked elimination.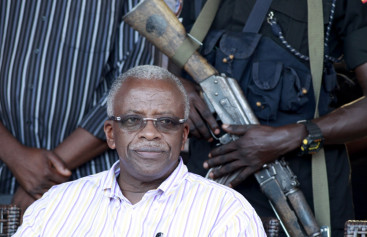 2013 – Parliament passes the controversial anti-gay bill that toughens the punishment for homosexual acts to include life imprisonment in some cases, and makes it a crime punishable by a prison sentence not to report gay people. World leaders condemn the vote, with US President Barack Obama slamming the bill as "odious".
The law was struck down by Ugandan courts in August 2014 after gay rights groups strongly mobilised.
2014 – Two months later, in February, Museveni signs off the anti-gay bill into law. Following the move, the US imposes sanctions – ultimately cutting funds to a number of programmes it is running with the Ugandan authorities, and cancelling a military exercise – and the World Bank postpones a $90m (£54m) loan to Uganda's health system. The floater was meant to supplement a 2010 loan focusing on maternal health, newborn care and family planning.
2014 – Museveni sacks his Amama Mbabazi, a former close ally now seen as a potential rival in the 2016 general elections. Some NRM members accused Mbabazi of privately using his ministerial position to mobilise support for his own presidential ambitions.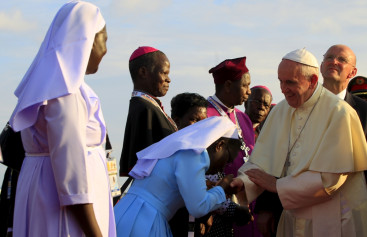 2015 – Amama Mbabazi announces his candidacy for the nomination as presidential candidate of the NRM ahead of the upcoming elections, effectively challenging his former collaborator, Museveni. Mbabazi later says he will run as an independent candidate.
2015 – During his November African tour, and despite the hopes of LGBT activists and supporters, Pope Francis makes no mention of the persecution of gay people in his homily in Uganda.
2016 – In January, Museveni announces he does not consider presidential candidate Mbabazi an opponent since the former prime minister is still a member of the ruling NRM, instead describing his former ally as a brother who deserted him in the middle of a forest. A week later, however, Mbabazi, accuses Museveni of using killings and torture to curb support for the opposition.