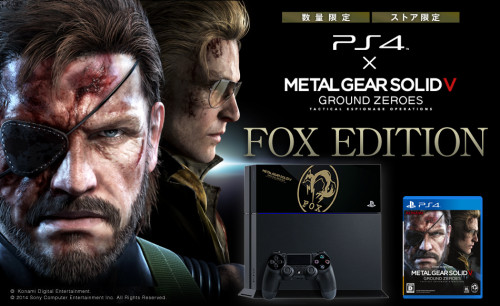 Konami, the publisher of Metal Gear Solid 5: Ground Zeros, has now announced a new PS4 bundle on the Sony store. It includes a Foxhound decal console apart from a copy of the game itself.
Kojima Production's Twitter account says the limited edition console will feature the Fox Emblem, thereby allowing this PS4 to be named the "Fox Edition."
The console will be priced at 46,980 yen or £275 and will be available in Japan from 20 March. However, there is no word on whether the limited edition console will be available in places outside Japan.
MGS5: GS Performance Compared on Xbox One and PS4
The game has been confirmed to run at 720p on PS3, Xbox 360 and Xbox One, which is much lesser than the 1080p on the PS4, according to a report. The news came from Kojima Productions.
It was followed by Hideo Kojima praising Sony's next gen console, adding that "his developers managed to get the game running at 1080p with room to spare".
Adding more weight to the reports that the PS4 is far more powerful than the Xbox One, the Konami Blog says that the Xbox One edition of the game will run at 720P / 60 FPS. This is lesser than the PS4, which will run the game on 1080p and 60FPS.
Interested in checking out some side-by-side comparison screens? View them here. Xbox fans will be disappointed since the differences are quite noticeable and will have a significant impact on gameplay experience.