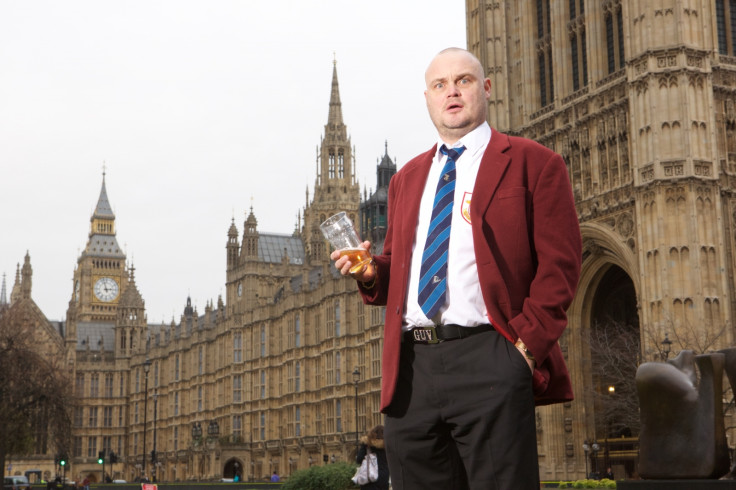 The Pub Landlord is taking on Ukip leader Nigel Farage at the general election and has revealed that he admires Russian hardman Vladimir Putin and wants to verbally beat up Ed Balls in the House of Commons.
The Guv, as his friends and fans call him, spoke to IBTimes UK about his parliamentary ambitions and his chances of winning over the South Thanet constituency in May.
The Free United Kingdom Party (Fkup) leader disclosed his biggest hate of modern British politics.
"The simple truth is the decent honest hard-working normal reasonable sensible down to earth rational calm hard working law abiding reasonable tax-paying normal sensible people of this country, the law abiding people of the UK who don't want to pay their speeding fines – regardless of how fast we may have been going, on a mobile phone, eating a burger, reading the paper – have been ignored for too long," he said.
To address these issues The Pub Landlord has released a 13-point "common sense message" to the UK, including a pledge to revalue the pound at "one pound 10p" and a promise that people will be "sent to a random hospital department to be practised on" if they turn up to A&E without a valid reason.
But where does The Guv get his inspiration from and which foreign leader does he admire most?
"Well, the thing is Vladimir Putin is doing a great job of getting stuff done and with his shirt off. None of the other world leaders seem to have taken up Vlad's challenge," he explained.
"He might be invading far off countries of which we know little but he's setting a new sartorial standard.
"He also shows leadership: the kind of leadership we admire in Fukp – follow me boys, what's the worst that can happen? That's Fukp all over."
The incumbent MP for the South Thanet seat, Conservative Laura Sandys, holds a majority of more than 7,600 votes and experts have suggested that Farage could win the constituency at the election.
A poll from Lord Ashcroft last July showed that Ukip had a two-point lead (32% vs 30%) over the Tories in the east Kent constituency.
But there is a slim – a very, very, very slim – chance that The Pub Landlord could win the vote and find himself in the House of Commons.
So which MP would he most like to have a debate with if he gained power after May?
"Balls. He doesn't know whether to work his calculator with his arse or his elbow: you wouldn't trust him with any numbers, not even changing the sell by dates on the peanuts," The Guv said.
The revelations from The Pub Landlord were part of a wide-ranging interview with IBTimes UK, which is due to be published on 21 January.