Two of Michelangelo's bronze statues have been identified at last after more than 400 years due to his "extremely telling" hallmarks including "luxuriant and prominent" pubic hair and ingrowing belly buttons.
Mounting excitement is being felt among academics at the University of Cambridge as Michelangelo is poised to be declared the sculptor behind the two statues of triumphant men riding panthers, which until now had remained a mystery.
They were once attributed to Michelangelo in 1878 but were later dismissed as the work of lesser known Renaissance artist, Tiziano Aspetti.
The sculptures, measuring under one metre in length, were owned by an anonymous collector living in Britain and were sold for £1.82m in July 2002. They are now set to be valued at more than £19m ($35m).
Academics at Cambridge have produced a small book explaining why Michelangelo created the bronzes, which includes the artist's trademarks of "impouching umbellicus" - an ingrowing belly button - with a small hood of tissue and "luxuriant and prominent" pubic hair.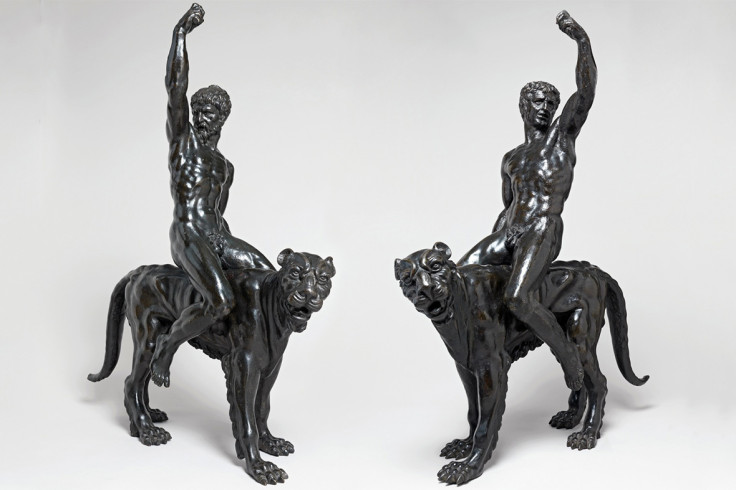 Peter Abrahams, professor of clinical anatomy at the University of Warwick, said hardly any Renaissance sculptors had any pubic hair on their male figures - even on 'virile' subjects - until the middle of the 16<sup>th century.
But he noted Michelangelo was an exception, especially in reference to his world famous sculpture of David, now on display at the Accademia Gallery in Florence.
He said: "More research needs to be done to verify how other Renaissance sculptors portrayed male pubic hair, but this is potentially an extremely telling...detail, which could almost be taken as a signature."
There was also a sketch from an apprentice showing a muscular youth riding a panther drawn in the same style as Michaelango's sculpture designs to prove he was behind the bronzes.
Professor Paul Joannides and Victoria Avery, keeper of applied arts at the Fitzwilliam Museum believe Michelangelo made them between 1506 and 1508 as he was about to begin work on the Sistine Chapel. The thickness of the bronzes indicate the period before the 1530s when Italians mastered the art of casting.
Dr Avery said: "It was thought that no bronzes by Michelangelo survived, until now. So we have not one, but two Michelangelo bronzes from a key stage in this career."
The last time the sculptures went on exhibition was in 2012 at the Royal Academy's Bronze exhibition.
The bronzes will be displayed at the Fitzwilliam Museum tomorrow (3 February) until 9 August.