A consortium of hedge funds has called for debt stricken Puerto Rico to shut down schools and lay off teachers in order to ensure the country pays down loans totalling $72bn.
The Centennial Group, an adviser to a clutch of 34 hedge funds that are owed billions by Puerto Rico, issued a report calling on the government to increase its tax take, sell off public assets and slash education spending.
The island's governor, Alejandro García Padilla, had previously declared that the nation's debt is "unpayable" and that the country is staring at bankruptcy.
IBTimes UK looks at what has gone wrong in Puerto Rico and how hedge funds are trying to profit from the nation's economic misery.
Bad debt, bad times
In June, Padilla said that the island is unable pay down its $72bn debt pile and that the country is seeking to defer payments for five years and gain concessions from creditors.
"The debt is not payable. There is no other option. I would love to have an easier option. This is not politics, this is math," he said.
Puerto Rico has been stuck in an economic rut for decades, unemployment has sky-rocketed and the country is officially in a recession. To keep the economy going, the government took out large loans. Raising taxes and reforming pensions had enabled it to keep up with payments, but now the coffers have run dry.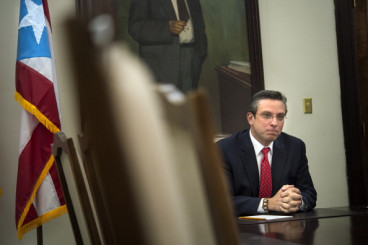 Step in the hedge funds
Hedge funds – which include Fir Tree Partners, Monarch Alternative Capital and Aurelius Capital - specialising in distress bought the debt at below its par value in the expectation that it would be paid back at its original rate, collecting a tidy profit in the process.
This practice, not unique by any means, has led to some hedge funds being given the moniker "vulture funds". Many of the funds involved in Puerto Rico have also profited from sovereign debt crises in Greece and Argentina.
The funds now have a place at the table in determining how Puerto Rico plans to pay the money back.
What exactly are they proposing?
The group has outlined what it calls "fiscal reform measures" that it wants implemented. These include reducing the number of teachers, cutting university subsidies and closing down schools. In addition, it has recommended cuts to healthcare and called for labour market reforms.
The Puerto Rican government's spend on education has risen 39% to $4.8bn since 2005, about $8,400 per student, and the creditors believe there is room for cuts.
The report is likely to cause heated debate in a country where over half of all children live in poverty and where the state has already started slashing public expenditure.
What now?
Experts believe that the island could run out of money in the coming weeks, leading to economic catastrophe.
Padilla is locked in negotiations with creditors, but the International Monetary Fund has issued its own report on Puerto Rico. It states that a full blown crisis can be averted if debt holders, including the hedge funds, take a hit on their investment.