The Purge 4 wants to make purging great again with not-exactly-subtle Trump-themed poster
The First Purge is set to be released in the US on Independence Day.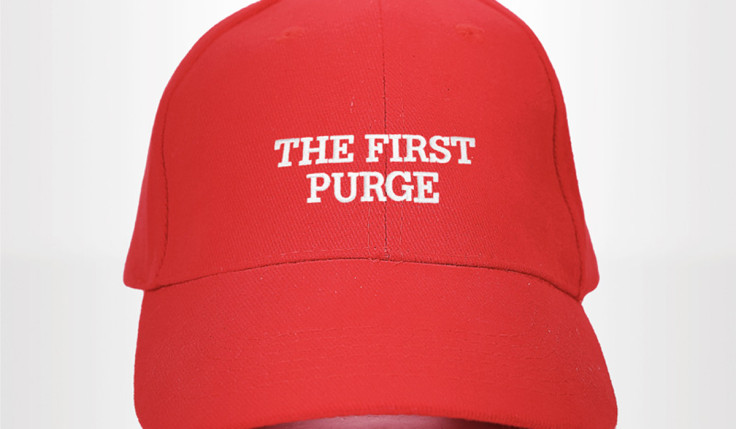 This year's Purge prequel has kicked off its marketing campaign in style with a poster sure to stoke a fair amount of controversy. The poster was released overnight as part of an announcement revealing the fourth Purge movie will be called The First Purge.
The simple poster riffs on President Donald Trump's famous red caps bearing the election-winning slogan "Make America Great Again", with the film's title in its place. Below it is the film's equally political release date: 4 July, otherwise known as Independence Day.
As the title infers, the prequel will tell the story of the first 'Purge' – a government-sanctioned night during which all crimes are legal and emergency services are made unavailable to the public.
This concept has been at the core of the Purge series, which began in 2013 and thrives thanks to its strong central idea and low budget. The three films to date have grossed $320m (£211m) from an accumulative budget of $22m.
This isn't the first time the Purge series has riffed on Donald Trump, during the promotional campaign for The Purge: Election Year they used the tagline "Keep America Great".
An official synopsis for The First Purge reads: "Behind every tradition lies a revolution. Next Independence Day, witness the rise of our country's 12 hours of annual lawlessness. Welcome to the movement that began as a simple experiment: The First Purge.
"To push the crime rate below one percent for the rest of the year, the New Founding Fathers of America (NFFA) test a sociological theory that vents aggression for one night in one isolated community. But when the violence of oppressors meets the rage of the marginalised, the contagion will explode from the trial-city borders and spread across the nation."
The Purge creator James DeMonaco, who wrote and directed the previous three films, returns to pen The First Purge's script, with Burning Sands director Gerard McMurray taking the helm.
The First Purge stars Y'Lan Noel, Lex Scott Davis, Joivan Wade, Luna Lauren Velez and Marisa Tomei.
A trailer is expected to be released soon, perhaps in time for this weekend's Super Bowl.