President Vladimir Putin has boasted about Russia's display of military power in Crimea amid fears Moscow could soon invade Eastern Ukraine.
The president, who had previously maintained troops which took over the southern Ukrainian peninsula were a form of local self-defence force, publicly thanked Russian armed forces for the "professionalism" shown there.
"The recent events in Crimea have been just one such big test for us. They have shown our Armed Forces' new quality and possibilities and demonstrated the high moral spirit of our personnel," Putin told military officials at a ceremony in Moscow.
"I thank the commanders and personnel of the Black Sea Fleet and other units stationed in Crimea for their firmness and calm, personal courage, and well-organised professional action that made it possible to prevent provocations, avoid bloodshed, and ensure the referendum took place in a peaceful and free manner," Putin said, referring to a Crimean vote to secede from Ukraine and join Russia which was held earlier this month.
The referendum was condemned as illegal by Kiev and the West, who said it was held under extreme duress.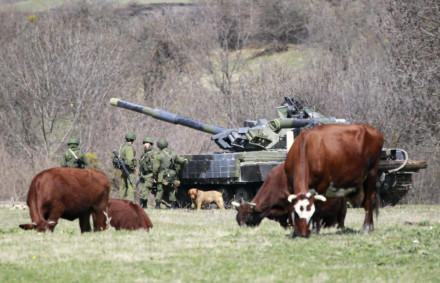 Russian troops moved in Crimea shortly after pro-Kremlin Ukrainian president Viktor Yanukovich was toppled by a revolution in February.
Moscow claimed military action was justified by threats purportedly made by revolutionary forces, which it described as nationalists and neo-Nazis, against ethnic Russians living there.
Putin's speech came amid reports the Kremlin had amassed some 50,000 troops along its western border with Ukraine and was ready to launch a second invasion.
Earlier Russia's foreign ministry alleged that ethnic minorities in other parts of Ukraine live in fear of ultra-nationalists.
The ministry claimed that not only Russians but also ethnic Germans, Hungarians and Czechs in Ukraine feel themselves in peril.
"They are unsettled by the unstable political situation in the country and are seriously afraid for their lives," the ministry said, without citing any specific incident.
US president Barack Obama has urged Russia to "move back its troops" and open negotiations with Kiev.
"It's well known and well acknowledged that you've seen a range of troops massing along that border under the guise of military exercises," Obama told CBS.
"And, you know, it may simply be an effort to intimidate Ukraine or it may be that they've got additional plans."