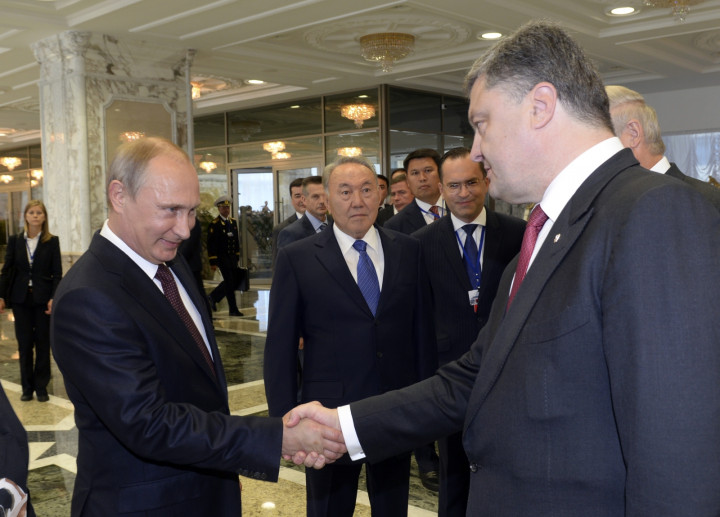 As the leaders of Russia and Ukraine shook hands for the first time since June, Vladimir Putin warned counterpart Petro Poroshenko over brokering stronger trade with the European Union.
The shadow of an escalating crisis in East Ukraine loomed large over a meeting in Minsk, which also included the leaders of Belarus and Kazakhstan, Russia's partners in the nascent Eurasian Economic Union.
A day earlier, Ukraine detained 10 Russian paratroopers that had ventured over its border in armed vehicles. They were there by accident, insisted Russia, a claim which Ukraine promptly rejected. But the bungled expedition brought further tension to an already momentous meeting in Minsk.
"Today in Minsk, without any question, the fate of the world and the fate of Europe are being decided," Poroshenko said, adding to the sense of occasion, Reuters reported.
From a Russian perspective, it was a chance to reiterate its hardline stance over Europe. Putin spoke of his fears that the trade agreement Poroshenko is pursuing with the EU will see the Ukrainian market flooded with European goods which will eventually enter Russia. This could, he estimated, cost the Russian economy around £1.6bn.
Appearing to threaten trade sanctions on Ukraine, Putin said: "In this situation Russia cannot stand idle. And we will be prompted, I want to highlight this, will be prompted to take retaliatory measures, to protect our market."
Poroshenko urged Russia to stop arming rebels based in East Ukraine, calling for peace in the region, with the conflict having taken more than 2,000 lives to date. He renewed his calls for Donbas separatists to accept his proposed peace plan, which they had previously rejected.
"The prime condition for a stabilisation of the situation in Donbas is the establishment of effective control over the Russian-Ukrainian border. It is vital to do everything to stop deliveries of equipment and arms to the fighters," he said.
Meanwhile in Moscow, a spokesperson for Russia's Industry and Trade Ministry has threatened a ban on American and European apparel, should the west impose further sanctions on Russia, industry press reports.