Putin slams US for not controlling Turkey's actions in the downing of its jet over Syria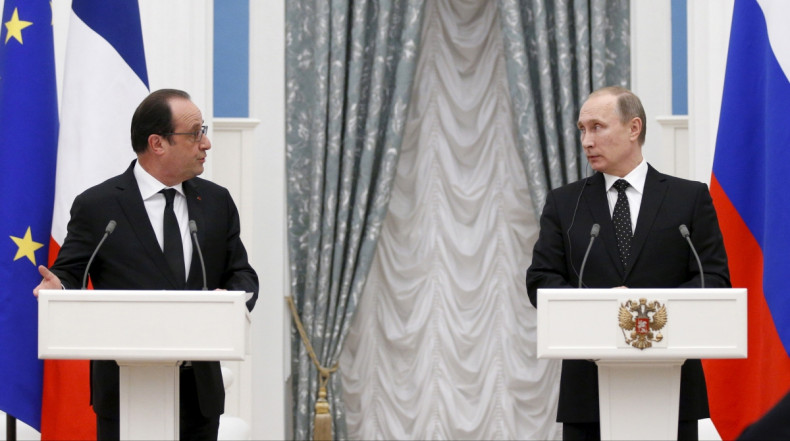 Russian President Vladimir Putin has warned they will halt cooperation with the US-led coalition fighting against the Islamic State (Isis) in Syria if its military is targeted again. Referring to the downing of its jet by Turkey as "unacceptable", he slammed the US for failing to control its allies.
Speaking in a joint press conference with visiting French President Francois Hollande, Putin said Russia's military had passed to the US the details of the flight plan of its military jet that was shot down by Turkey. "Why did we pass this information to the Americans? Either they were not controlling what their allies were doing, or they are leaking this information all over the place," Putin said.
Still seething from the downing of the Russian jet, Putin said: "We are ready to cooperate with the coalition which is led by the United States. But of course incidents like the destruction of our aircraft and the deaths of our servicemen ... are absolutely unacceptable. And we proceed from the position that there will be no repeat of this, otherwise we'll have no need of cooperation with anybody, any coalition, any country."
Putin said that he and Hollande had "agreed how we will cooperate in the near future, on a bilateral basis and with, as a whole, the coalition led by the US.
Coordinated strikes on Isis
Following the meeting between Putin and Hollande, Russia and France have agreed to co-ordinate strikes against Isis as well as share more intelligence. "We view this as the formation of a wide anti-terrorist coalition under the aegis of the United Nations," Putin said.
Hollande is on a mission to gather support for France's fight against Isis after the terror attacks in Paris that resulted in the deaths of 130 civilians. France is also asking the UK to join it and the fight against Isis in Syria.
Russia is also a recent target of Isis. A Russian Metrojet plane is believed to have been destroyed in mid-air over Egypt's Sinai by an explosive device planted onboard, an attack which an Isis affiliate group has claimed responsibility for. The plane was carrying 224 people, all of whom were killed.
Putin and Hollande also agreed that both countries would only target Isis and similar jihadi groups. "What we agreed, and this is important, is to strike only terrorists and Daesh (Isis) and to not strike forces that are fighting terrorism. We will exchange information about whom to hit and whom not to hit," Hollande told the news conference.
Putin agreed, saying that both countries would "exchange information about which territories are occupied by the healthy part of the opposition rather than terrorists, and will avoid targeting them with our air strikes."
Hollande described the downing of the Russian jet by Turkey as a "regrettable incident" and said it highlighted the need for countries fighting against Isis in the area to coordinate their military activities more closely to avoid another such incident.
While both countries were in agreement about their joint efforts to fight Isis, there was no consensus on the role of Syrian President Bashar al-Assad. Speaking after the joint conference, Putin said Assad was the "natural ally" in the fight against Isis, and that ultimately, it was the Syrian people who should decide their leader's fate.
Hollande however had a different stance, which is in line with that of the European Union and the US. He told reporters that Assad had "no place" in Syria's future and called for the creation of a transitional government to organise elections. The French president said that his country will step up support for rebels fighting Isis on the ground.
Earlier this week, Hollande met US President Barack Obama in Washington, and UK Prime Minister David Cameron and German Chancellor Angela Merkel in Paris. Cameron is pushing for expanding RAF air strikes in Syria and presented his case to Parliament on Thursday (26 November)