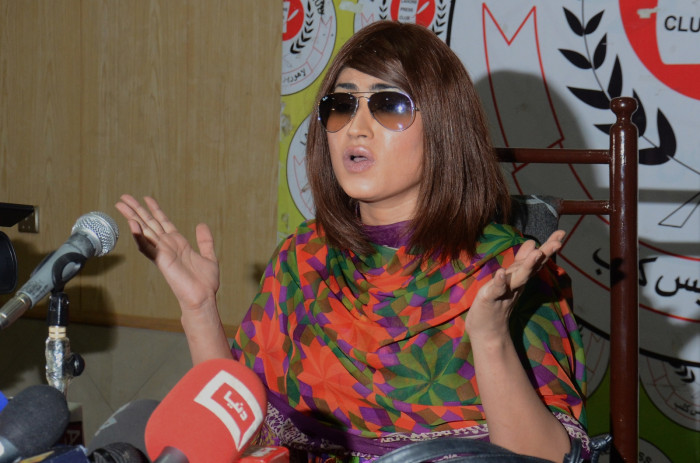 The brother of Pakistan social media star Qandeel Baloch, who was strangled in the family home in Multan in July, has been charged with her murder. Muhammad Waseem has admitted killing his sister, who was 26, but claims he did it because Baloch had brought "dishonour" on the family with her risque videos and photographs and says he has no regrets over his actions.
Baloch — real name Fauzia Azeem — had outraged some qaurters in Pakistan with a number of provocative videos, including one "twerking" with singer Aryan Khan. She offered to strip off for the national cricket team if they beat arch-rivals India and was thought to be considering an appearance on India's version of Big Brother, Sky News reports.
Baloch had also posed for a series of "selfies" with an Islamic Mufti, Abdul Qawi. He was suspended from the country's Ruet-e-Hilal Committee as a result. Speaking after Baloch's death the cleric said her fate should serve as a warning to others.
"Those who have humiliated clerics must seek repentance and should ask forgiveness from clerics as well as Almighty Allah," said Qawi, reported the Hindustan Times.
At a press conference Waseem admitted killing his sister but said he had to do it because of her behaviour. Under traditional Pakistan law, a so-called "honour killing" — usually of a woman or girl by a man or male relatives — could be forgiven if another family member agreed to it.
Pakistan recently passed laws to attempt to stop this, but critics say some loopholes still remain. According to the Human Rights Commission of Pakistan (HRCP), in 2015 at least 1,100 such honour killings were reported and many more are thought to have taken place.
Waseem appeared in court in Multan, in Punjab ,930 km (577 miles) north of Karachi, with his cousin, Haq Nawaz, who has also been formally indicted with her death. Two other men, including Nawaz's brother-in-law Zafar Zain Khosa, are charged with being accomplices to murder. Khosa has reportedly left the country and is being hunted by police.